This is maybe not the amaz...wait for it....ing news you should have wait during the 4 months we spent without giving any signs of life, but this will prove you that we are still working on the mod.
We had problems with exams and real life issues so we did not a lot of progress, the lack of help did not help too. The first episode of the mod we planned to release this month is not ready, and a lot of stuff are still needed to be finish. So i think you won't see this episode before awhile.
First of all, bendix modified a lot of things in lg-1 and lg-2.
(you can find more screens in our images section)
We made progress on the hand and the cut models: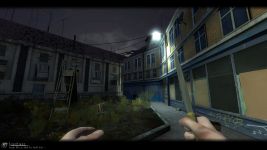 your servant (me) made this new music for the 4th chapter:
I did open a twitter too, because we do a lot of things that we can't explain in a news.
Twitter.com
Buldozer, upgraded the website, and then we decided to get a real .com :
Logistiquemod.com
Tranxen51 is working on Particle effects, we can add in levels. Steam, Water leak, etc...
So here we are, I have to remain you that we still need a coder and a modeler. So if you have what it takes, don't esitate. See ya on twitter for more news.