Welcome back to Halflight ZONE!!
In recent months the project was silent but not gone, we did not update but we where busy working on the game . An apology if I do not update as often , I will try to keep you informed on relevant things we just did not want with info and no screenshots. 3 months ago we were ready to show progress but then Unity 5 was released and we decided to upgrade and update our objects , textures and code , assets, etc. it take us time to rebuild everything we had but the end result was worth it.
There is no demo of what we been working on, we want to release a well made and polished demo in 4 to 5 months so you can experience our vision of the game ( but we will keep you updated on ther stuff) .We are proud of what we are building and the new direction on the gameplay and game mechanic.
Updates.
So, we have done many thinks visually. For starter we changed from B&W to color, the game at first was going to be a 50s tv show simulator but then it will not appeal to many so we will add this as a filter that you can turn on/off.


As you can see the environment is going looking good in Unity 5, every building can be visited. This is a screenshot of the commercial area. Every building will have interiors and its own set of puzzles.
Every texture in the world will have that "hand painted look" as you can see in the image, there still some filters to make it look more like a living art.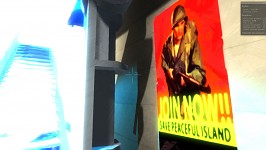 I think thats all i have to share with you today. We dont want to spoil the gameplay or anything until the demo but be sure to stay tune to our site we will release better updates and more screen images of what we are doing.
Also welcome Ekincan Tas as our lead programmer. We are a small team of two people but we are making our progress. Stay tune!