Warm Gun, with the help from publisher friends at
ORiGO GAMES
, was able to make an appearance at this year's CGDC.
Emotional Robot's didn't actually know that their product was going to be marketed until about 48 hours before the event. The team was contacted Wednesday evening by founder and owner of ORiGO games, Adam McClard, via Skype.
The conversation went something like this:
Adam: "Hey I'm going to get you guys some coverage at CGDC. Try to get a media packet sent over to me."
ERI: "Awesome man thanks for the opportunity - when does CGDC start?"
Adam: "Friday."
ERI: "Oh."
Needless to say, the team scrambled and worked their butts off Thursday through Saturday to get something put together. We didn't have any recent marketing material to showcase (our fault!), so we were building from the ground up. The team was able to get an .exe together that had a nice Scaleform lobby with the options to view new HD video fly-throughs of Heart of Darkness, Lost Highway and Red River Canyon. The .exe also had options to leaf through some of our most recent HD pictures. While we couldn't get much coverage on the first day of the event (Shanghai was 13 hours ahead of us - so there was even more of a crunch), we were able to pull through and gain some valuable exposure on the second day. Overrall the weekend was a success thanks to our friends at ORiGO, but rest assured we have a meeting tonight to discuss our future marketing plans!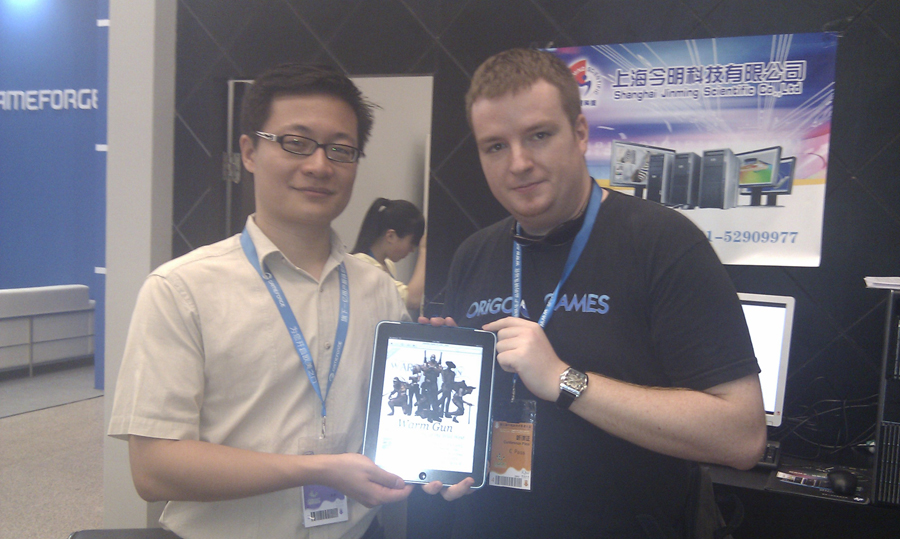 Warm Gun being Showcased to Wu Hao (Left), senior Business Development Manager at Epic Games China, on an iPad at the 2010 CGDC.
Rushing to get this media packet finished in under 48 hours was a very valuable experience for the team and it's managers. It really tested the limits of the team and its individuals, and Emotional Robots was able to prove once again that they can handle the stress. This event was an eye-opener in regards to what it takes to succeed at places such as the Game Developer's Conferences, and the managers of Warm Gun will be applying their experiences this past weekend to their future media strategies.
And yes of course we're including the media here! Below you can find the video fly-throughs as well as the new HD screenshots. All video footage and screenshots are raw, in-game captures. We used FRAPs for the videos. Nothing has been edited.
Lost Highway Flythrough
Heart of Darkness Flythrough
Red River Canyon Flythrough