T he third BETA release of VLM is now available for download! Included in this release are numerous fixes, improvements to the installation process and a few additional mod packages.
New Features & Improvements
For this release I've listened to the feedback received regarding the installation of the mod packages, and as a result I've now included additional descriptions and notes for each mod package, to which can be accessed directly from within the mod manager itself. Additionally you'll find links to screenshots and / or videos that show off the particular mod package if they are available.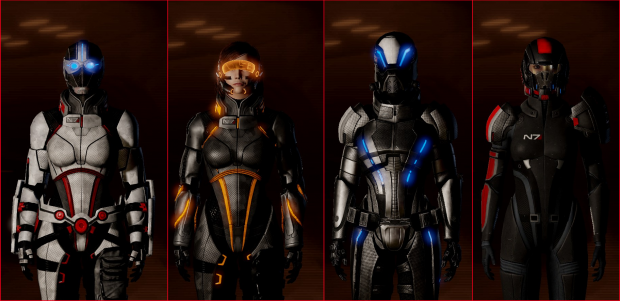 A while ago I showed off the screenshot above and mentioned some of the additional mod packages found in VLM that aren't related to weapon load-outs and in particular improve your character appearance.
First of all in this release you'll also find a copy of Abvex's MASS-ively EFFECT-ive COLOR-palette mod, which I've received permission to include. This is a great mod that adds hundreds of additional armor tints for you to customize your armor with. The color palette mod included in previous versions of VLM has been removed and I will not be continuing its development.
Secondly if you look at the far right of the above screenshot, you'll see that the other N7 armor has been added to the armor selection. In VLM you can either choose to select it as a Full-Body Armor or customize it with shoulder pads and helmets etc. If you want, you may also remove your shoulder-pads, to which can look good under certain combinations. Adding additional armors is merely a test for now, I'm aware other mods have produced similar results - but if this checks out bug free and works properly for all users then I will be expanding to it in the future.
Other stuff and ETA till next release...
I've been a bit tight for time with this release as I have a backlog of other projects I need to finish first, so not everything I wanted to include is included. A few additional weapons mods and improvements will be released later on, probably next month some time when they are completed. Remember this mod is still in BETA, so please continue to post your feedback and / or bug reports. In the mean time enjoy V1.2!
Download:
There are a few other changes and improvements I've not covered in this news post, so check out the change-log for further details. You can download VLM V1.2 [BETA3] here.
If you encounter any problems then let me know and I'll try and fix it in a later release. Also please give this mod a rating here and if you want to post any detailed feedback then you may use the VLM forum board here.