T he second BETA release of VLM is now available for download! Included in this release are numerous fixes, new features and support for RoadCrewWorker's ME2 Mod Manager.
New Features & Improvements
One of the notable changes is this release is the modification to the shields and armors of NPC's, so they effectively have same behavior as the player. What this means is that NPC's will now have regenerating shields and be able to quick regenerate health & shields whilst in cover. This is something that improves the overall combat of ME2, but also an entirely optional install. Other features now included with this mod include improved graphics and the ability to disable intro video's.
In V1.0 there were a number of bugs that I've also now ironed out - the most notable of these being the twin sniper rifle bug, where effectively every squad member would by default carry two sniper rifles at the start of game. An annoying bug, but now fixed.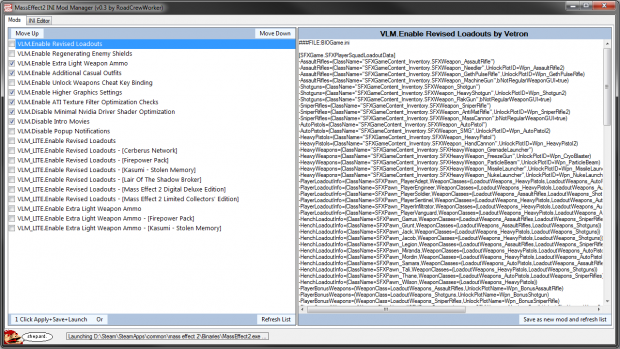 RoadCrewWorker's ME2 Mod Manager Support
With V1.1 I am dropping support for JSGME for installation and have migrated the mod to the ME2 Mod Manager. The reason for this is that this will extend compatibility to other mods and users without every DLC package installed. It will also allow you to select which of the included features you wish to be installed. More info on the mod manager itself can be found here.
Download:
There are a few other changes and improvements I've not covered in this news post, so check out the change-log for further details. You can download VLM V1.1 [BETA2] here.
If you encounter any problems then let me know and I'll try and fix it in a later release. Also please give this mod a rating here and if you want to post any detailed feedback then you may use the VLM forum board here.