W hat is VLM? VLM, aka "Vetron's Loadout Mod" is a revisal of the load-out system used in the game Mass Effect 2. The stock game grants weapons available to the player based on their initial player class selection, which at times can prove a bit silly. My personal view is that the classes should only grant different skills and not restrict which weapons you can carry.
VLM does away with this restriction and instead grants the player and his or her squamates access to virtually every available weapon. Instead of being just a disorganized mess, this mod changes the basic load-out concept by doing away with the idea of "you can carry 4 weapons, one of each type" and instead assigns weapons into class based categories such as light, medium and heavy. The player can carry one of each.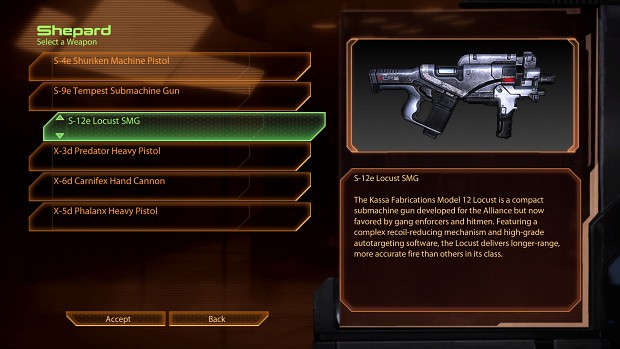 Light Weapons
This category is a combination of the previous Auto-Pistols and Heavy Pistols categories. Unlike before, the player can now only choose one of these weapons (Before you could carry a Auto-Pistol and then a Heavy Pistol). The trade-off of the combining of these two categories is that the weapon the player chooses now comes with more ammo instead of the other weapon. Typically the weapons have been given a 20% to 25% carry-able clip increase, or at least one carry-able extra clip. More info can be found in the Light Weapon Changes Feature.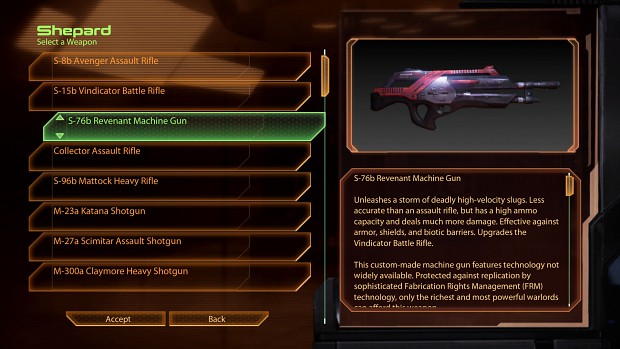 Medium Weapons
The Medium Weapons category is a combination of the previous 'Assault Rifles', 'Shotguns', and 'Sniper Rifles' categories. This gives the player a choice between 14 available weapons for this slot, allowing you to take the weapon you want and not being forced upon you because of some silly restriction.
Why did I make this mod?
When it came to playing through Mass Effect 2 for the third time I wanted to play with all the weapons, including some of the DLC ones that I just hadn't been able to use yet. This is where the basic idea of VLM came from. The merging of the Auto-Pistols and Heavy-Pistols category was done because I felt the player simply was carrying to many weapons and I'd much rather carry some more ammo than another pistol (to which I'd only switch to after running out of ammo!).
Note: I am aware that there are other load-out and weapon based mods available for Mass Effect 2, but these are not the same as VLM and any similarities is purely coincidental (This mod was created from scratch by me alone).
Download:
There are a few other changes and improvements I've not covered in this news post, so check out the change-log for further details. You can download VLM V1.0 [BETA1]. Please note that you are required to have every single Mass Effect 2 Weapons-based DLC owned and installed for this mod to work successfully, there is currently no 'LITE' / 'non-DLC' version available.