Client Version 1.4.26
We're actually getting the Monday release out on Monday this week and we're quite happy about that. Mostly it's a bug fix, but we're really excited to offer a brand new bonus for all of our Denizen members.
Denizen Daily Bonus
If you're a Denizen you'll now receive 15 free NN everyday just for logging in to the client. Being a Denizen just got a lot more exciting now that you'll receive free NN just for being awesome!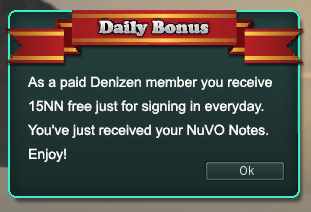 Your daily bonus is also visible via your NuVO Notes History so you can see where those extra NN are coming from.
Sunset Isle
Sunset Isle is nearing completion and we hope to have it released next week. Sunset Isle will be replacing the existing Sunset Harbor location so be sure to take any historical snapshots you want to take this week before it's gone forever. The new Sunset Isle is impressively larger than Sunset Harbor and offers a lot of great things to see and explore.
Release Notes
[Updates]
- Denizen accounts now receive a daily login bonus of 15NN. Just login to the client each day and receive your bonus!
[Fixes]
- Achievement window tabs no longer dissapear when clicking the Explore tab
- Fixed issue where some menu items were missing when right clicking on your avatar or another avatar