Portal Mortal - Version 0.1.0.3
Some of the major changes in this build are:
- Added some new art.
- Added news-box to main menu.
- Added possibility to copy global and local IP address.
- Added possibility to paste on multiplayer settings.
- Added option to tap or hold DOWN KEY to fall.
- Added one new soundtrack: Endless Voyage!
- Added rebindable key to change between Blocks and Tiles.
- Added sparkles to portal trails.
- Added "EDIT/PLAY" button.
- Added "(R)estart" button.
- Added "Return to HUB" button.
- Added start-up intro sequence.
- Added "First time" setup screens.
- Changed players physics from floaty to heavier.
- Fixed color blocks taking wrong state in multiplayer.
- Fixed inertia giving a massive boost when going through portals.
- Fixed server not disconnecting clients when shutting down.
- Fixed server not showing other players.
- Fixed bunch of levels.
- Fixed checkpoints in multiplayer.
- Fixed tile disappearing in multiplayer.
- Fixed problems with level uploading.
- Fixed "/kick" command.
- Fixed movement on ice.
- Improved blood spreading.
- Improved block & tile deletion.
- Improved physics of player pieces.
- Improved changing system between Blocks and Tiles.
- Blood and sparkles halved by size.
- Portals won't play hit sound twice in multiplayer.
- Victory-animation will no longer mess with the replay.
- Middle mouse selecting a trigger will select the right one.
- Client will see now much more server messages.
- Atmosphere glow will slowly disappear when reaching higher levels.
- Timer is now hidden.
KNOWN ISSUE:
- Opening any playlist and moving from level to another during the multiplayer will result a crash. This will affect to clients and host as well. Please, do not use playlists in multiplayer. Opening single levels won't cause any problems... hopefully.
Screenshots: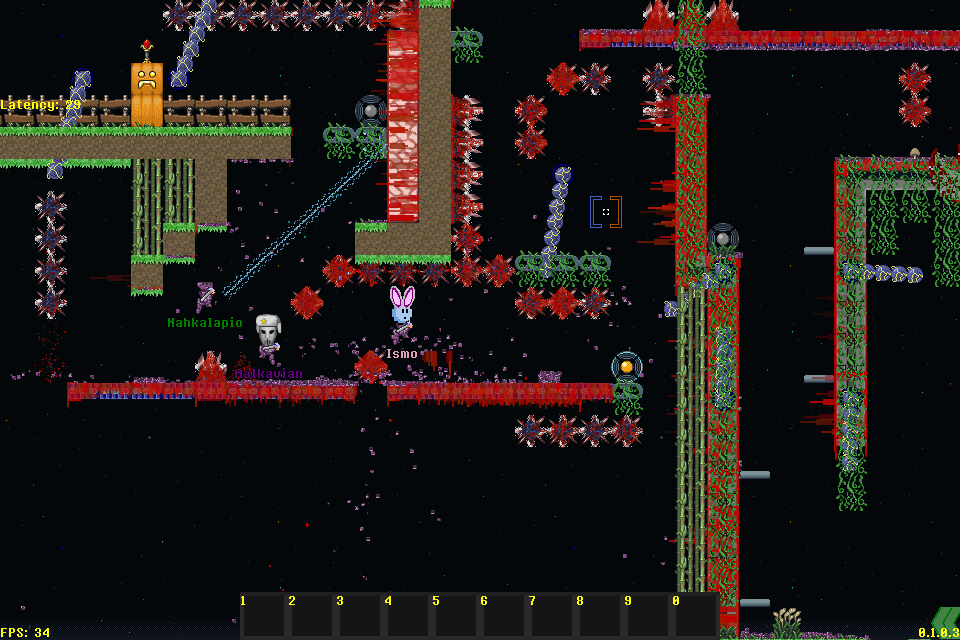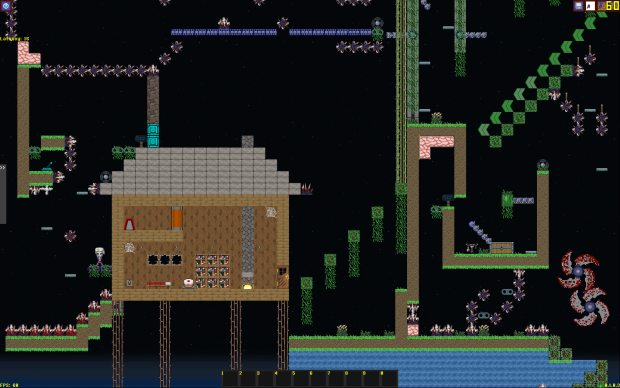 What's next?
Now that I own Mac Mini, my goal is to release Mac-version along the build 0.1.0.4! I don't know how big issues there's going to be, if any, but that's the main target. After that, I'll keep on changing the current system based on the feedback I receive. The story is coming along quite nicely and I might be adding some new blocks as well.
Any feedback will be appreciated. Something about graphics? Express yourself! Found a bug/glitch? Tell that to me! Don't hold that valuable piece of information for yourself!
There's also a subreddit dedicated to this game!
Reddit: Reddit.com
Website: Portalmortal.net
Twitter: Twitter.com
Linux