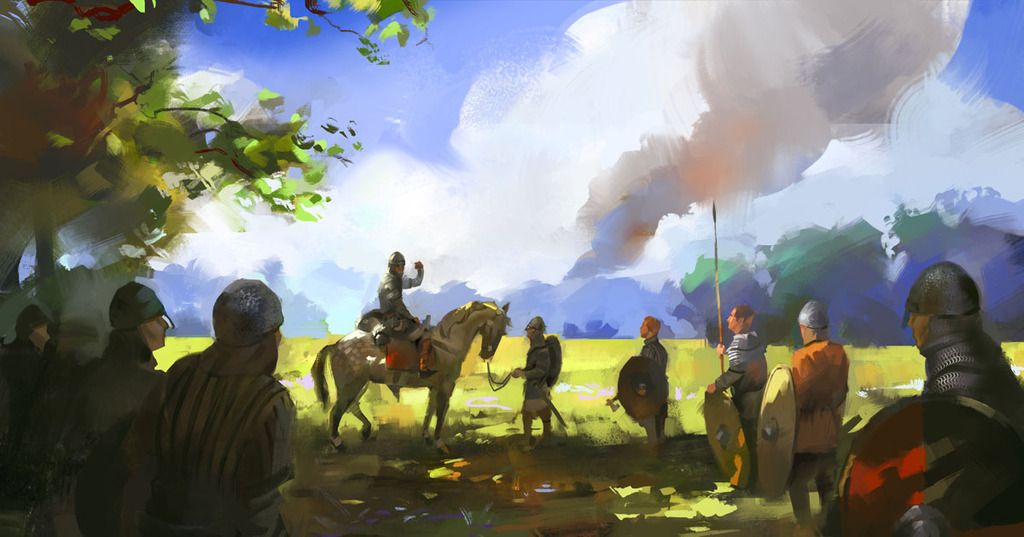 The Viking fleets returned to Normandy. They had often found safe harbour there in the past, a constant source of dispute with king Æþelréd of England until the Pope mediated a truce between king and count ten years ago; but the count had died and his son, Richard II, had welcomed the Vikings again as their onslaught on England heightened. They conquered at Maldon and fell on London, and many of them took tribute and settled down as men of the king; but still others ravaged the shores of England for three full years before sailing to Normandy with their spoils.
Æþelréd was quick to exploit the respite, however, as he laid waste to Cumberland and the Isle of Man, known Viking bases in the Irish Sea; but his attention soon turned to Normandy. At Portsmouth he gathered another ship-fyrd, ready to cross the sea and do the most harm to Richard, that he may stop supporting the pirates. Ælfríc son of Ælfhere, ealdorman of Hampshire, was chosen as the captain, even though some whispered that he was a friend to the Danes; and he was to be assisted by a Danish steersman, Pallig son of Tókig, one of those who had accepted Æþelréd's terms and entered his service.
But even before they came to land near Barfleur, the Norman lookouts spied the fleet in the horizon, and swiftly they rode to warn the young Niel, viscount of the Cotentin, Richard's friend and most trusted captain. Together with his companion Alvreid Gaianz, "the Giant", he mustered his host at Coutances and marched on the Saire valley to defend his land and folk against the invaders, gathering many stragglers along the way in his hurried advance towards the columns of smoke in the distance that marked where the English had burned down a village along the coast.
It was a pleasant summer day in the Saire valley, and the histories of England and Normandy were about to become inextricably intertwined.
---
Head over to the Taleworlds forum to see the full thread and sign up. Everybody is free to join one of the two public hosts: the Gent de la Sare for the Costentineis or the Cyrlisce Scipmenn for the Engla Scipfyrd.
Forums.taleworlds.com