Hi there everyone, i know there han't been musch update recently as i kinda lost contact with my skinner(Marc15yo) I know you all are itching to see them skinned but.... Never mind about that, lets just bring you a few Unskinned models.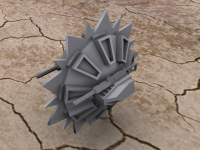 This is the Buzzsaw. It can cut through think armor using its Large Blades. many fo you may reconnise this if you play Emperor : Battle for Dune . It has 2 machine guns capable of moving through infantry but its REAL weapon is its blades.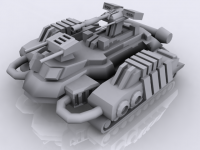 This is the Planetary fortress. It has a limited amount of sheilds that once destroyed, the treads fall off and it becomes a stationary bunker. It can also be deployed using its secondary ability. Once it is deployed, there is no way to reverse it back.