Things are progressing well so we thought we'd bring you another update of what we've been working on since last time. That along with the occasional slip into Victorian melodramatic prose, for no other reason than mere whimsy.
So without further ado...
... welcome to this update, a slice of action, a veritable smorgasbord of inedible visual delights. Sit back and be mildly diverted for a couple of minutes as we present you more from the incredible world of Smith and Winston...
First up, this video of game play, it's of a level we constructed to test our fundamental game loop, basically shooting and dodging with simple guns and enemies. Making this part fun is a priority as everything else will be built off this. We're happy with it so far.
Next up switches and triggers, these will be be used on an array of objects, raising or lowering platforms, shutting off force fields, activating traps to revealing secrets. Here we're showing off a video of them working with doors, from simple Star Trek style sliding doors, opening when the player enters the trigger zone to doors that open when a series of switched are activated.
Something we'll have to take into account when we design levels is the fact you could just blow a hole through the wall next to it! Hmmm...
Now tremble before the darkness spat from the very mouth of Dazza the high programmer, first amongst few*, as he shows how we conjure forth these very portals in the editor!
Behold! (Cue Inception horn sound)
Plants, who doesn't like plants, luverly things. Now you can destroy them with bullets, explosions, even the daintiest of footsteps will cause them to explode delightfully. This image below shows the range of flora from the first couple of levels, this doesn't include larger plants like trees or shrubs which are built in level with standard voxels.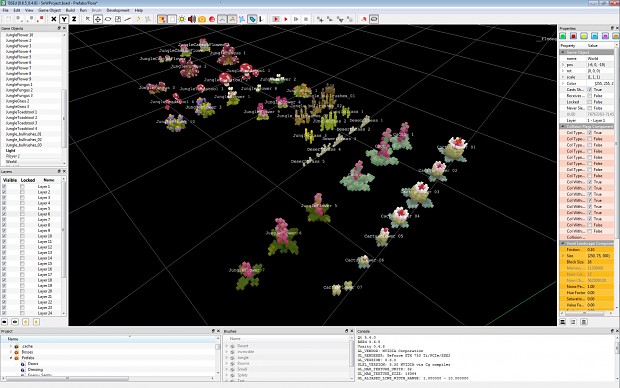 Finally we're well on our way to adding drivable vehicles, we don't want to show to much yet but this image shows the new tank broken down into its various moving pieces.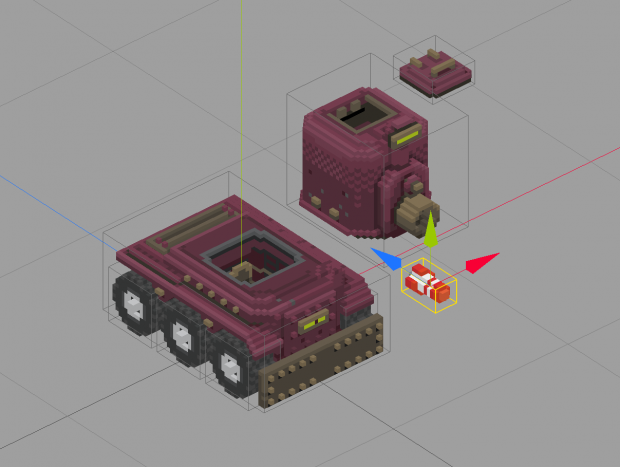 One last thing is that we've confirmed that we will be bringing co-op game play to Smith and Winston, with plans for up to 4 players, over local and network play.
And now I shall bid you fare well, till next time.
*There's only two of us and Dazza does more work