This patch was focused on optimizations. The community has been really vocal about it, so it was time to dive in and make it happen.
But we wanted more than just optimizations, with it we also added a ton of new visual effects, texture adjustments, and new rendering techniques to make the game look and play better. Full list of all changes below.
We added a ton of test schematics to build and customize your space more, you can place and bust back tiles and forground tiles, and beams!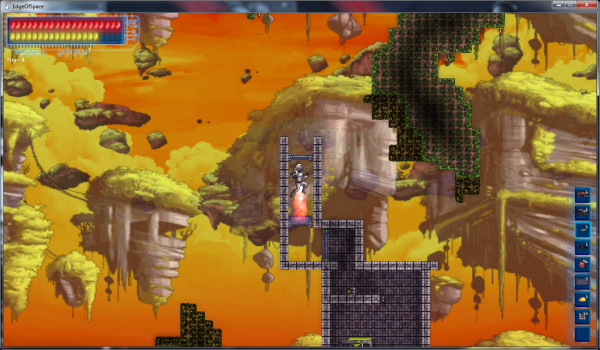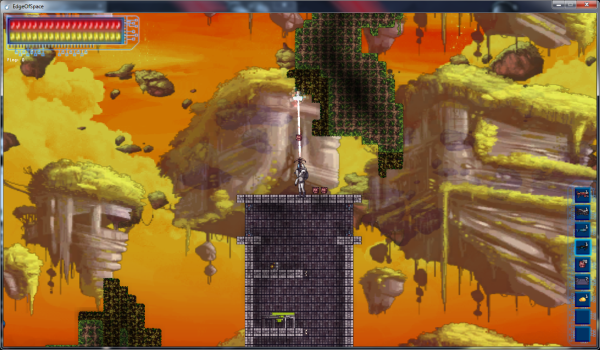 New world!

The world is now clusters into regions.
World Generation now works on a per region basis.
World Rendery re-factored to use GPU more efficiently
Added new 'layer' rendery system allowing for structure tiles.
Added tile edging, when two tiles of a different type touch a small edge is rendered to blend them together.
New Networking pipeline for the world that handles a per region basis for clients.
World Generation now occurs on another thread that is only active when its got a job to do.

New Placeables

Placeables now correctly work with all fixture types.
Placeables are now rendered in a single batch, greatly improving there performance.
Placeables are now activated by being near them putting the cursor over them and pressing Q. (IE: Doors)
Placeables are now network sync'd and saved and loaded in there region.
Placeables can now flipped (Right click while you are placing one).
Placeables can now be placed on other placeables that are set up to be in world stackable. (tables)
Tables act like platforms, in that you can walk through them but if you jump up you will stand on them

Interactions

User can now place tiles in the FOREGROUND or BACKGROUND. Select tile in action list and RIGHT click to play in background and LEFT click to place in FOREGROUND.
User has been given a large number of test schematics to go have fun making and customizing their locations
Creatures can drop items that are usable
Back tiles can be busted using the mining tool but RIGHT click instead of LEFT click
On disconnect can reconnect without restarting client should properly clean to allow reconnect

FX

A new sound manager has been added to the game, making it alot easier to setup sounds in the game.
Most creatures have new sounds put on them but not final
Beam effects have been tweaked and added to most of the tools of the game.
Lighting has been optimized
Ambient occlusion has been added for tiles connected to back tiles
Items that emit light no longer get strangely shadded

General Optimizations

Processing Threads now sleep when they are not needed.
Tiles now require far less memory reducing the memory footprint of the world over all.
Batchmode no longer loads any textures.
Sprites are now rendered in batches.

Networking Optimizations

Prediction States of creatures are now better optimized and should move faster even with a high ping.
World Regions are now compressed before being transmitted.
If a Region does not get sent, will go into loading screen and freeze/immune/ player until they have loaded the region

Known Issues

Offset for placeables stacked on others off. So sometimes they will float a bit over it
Doors require 1 more tile then they need to be placed
Doors collision is wider than the door
Beams continue to show even when a UI is open or over it
Some creatures have sound sync issues
Sometimes a creature can get stuck in an animation (rare)