Firstly it's been suggested my work was a bit ambitious since I wanted an open world game but the level design is being shorten.
Will be looking at smaller map design's, this will help me design it for a smaller part of the city also still trying to make it look like a suburban environment.
Also mainly been having problems with UCX collision detection like it's been creating a unknown barrier in the distance but that might be due to a static mesh failing to know where a big collision would go.
(Important rule never let the UCX collision mesh's touch)
So after further testing I have assumed it best to try out a different approach which involves going back to the old resident evil close space designs.
Below is an image of something I was working: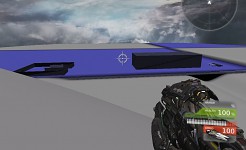 The reason the level looks basic at the moment is mainly because I wanted to check if my buildings were positioned correctly since I have been testing everything very carefully to make sure everything will look ok when walking through my level design's.
I have even tried making a prototype game to show what my street would have looked like using the Halo Reach engine. Below is a video link of it:
Anyway I apologise for the lack of updates, will be bringing more updates as soon as possible, next week I will be giving character modelling a go, will be hopefully sometime soon be testing out AI.
But before then I will be cleaning up my new textures and hopefully adding them as seamless tiles.
(All textures are my own, being created from scratch)