Attention colony managers,
you may have expected the "Answer to the Ultimate Question of Life, the Universe and Everything" from update 42 or have you newer sheltered a passing hitchhiker in one of your outposts?
Anyways, what you get instead is of course just another bunch of problems which will make the colonizing business so much more interesting...
TL;DR
Catastrophes let colony shares drop
Riots in cities and native camps
Security Complex
New item: Soma
New city center animation
Anti-aliasing
Biome & forest diversification
Fixes & improvements
Catastrophes Let Colony Shares Drop

For example a persisting epidemic in another companie's colony is lowering their colony's stock price. Use this opportunity to buy their shares at a discount!
Riots, fires, hackings, flood, tornadoes, asteroids, meteors and other incidents have similar effects. Also threats like Assimilators or Xrathul will cause a drop.
Your ability to artificially trigger these natural catastrophes through temples and items makes price drops an interesting prelude to the next strategic equity buying spree and the takeover of other colonies. The free market makes it possible.

Riots in the Colony
Riots are now a real threat to your colony! This is what happens when your colonists are unhappy for a long time. Under-supply of resources or negative external influences lead to a poor quality of life. If these circumstances continue for too long, people's misfortune increases to anger and a riot develops. It's too late to fight the causes of the uprising as soon as it breaks out. A riot can be pacified with the use of Soma and prevented by a security complex or a frontier tower. But the easiest thing to do is to provide good colony living conditions in the first place.
Security Complex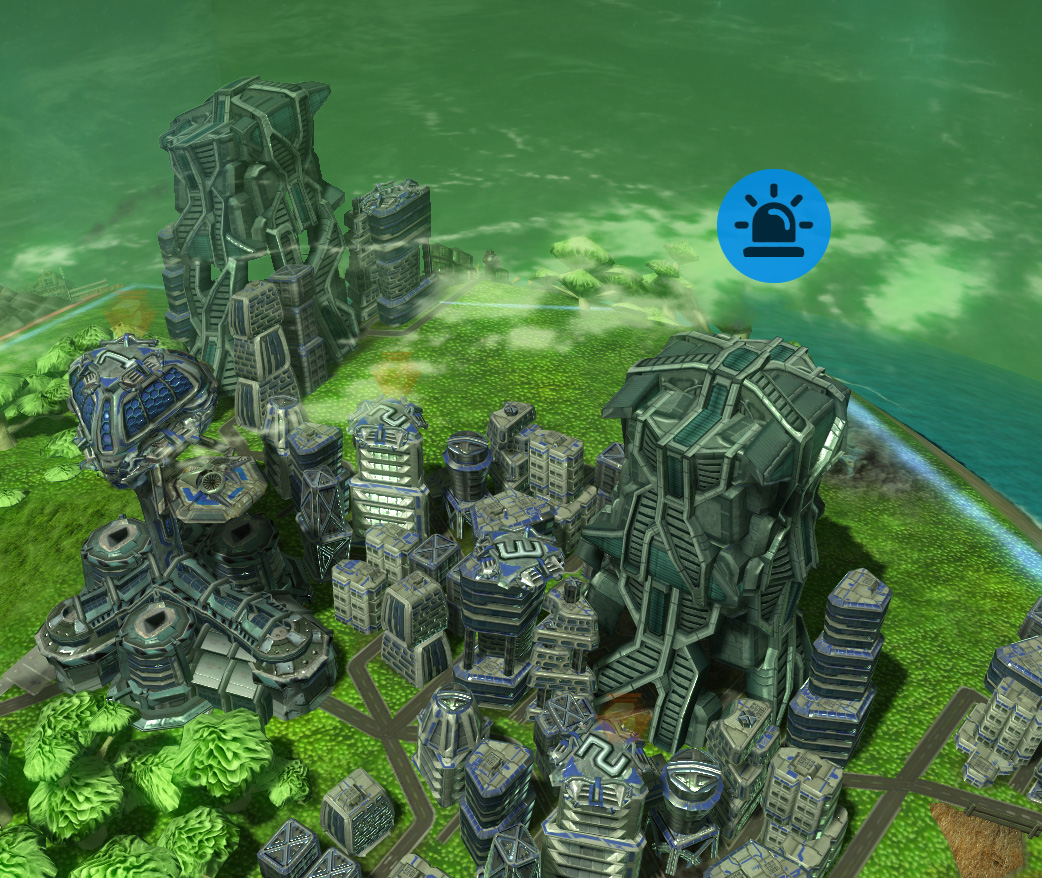 This building stations police units to maintain order in the colony. Riots of dissatisfied colonists in the surrounding area are prevented. This ensures peace and quiet, although this is associated with additional costs.
The facility monitoring upgrade scans production facilities in the surrounding area and prevents incidents.
The cyber security upgrade monitors the information networks in surrounding buildings and prevents hacker attacks.
Soma

We could finally synthesize Soma, the famous drug from Aldous Huxley. This is what the packing slip says: "To avoid major mood swings that can lead to negative moods, people regularly take Soma, a drug that has a mood-lifting and stimulating effect and is also used as an aphrodisiac. Unlike alcohol, it has no side effects at the usual dosage and is produced synthetically."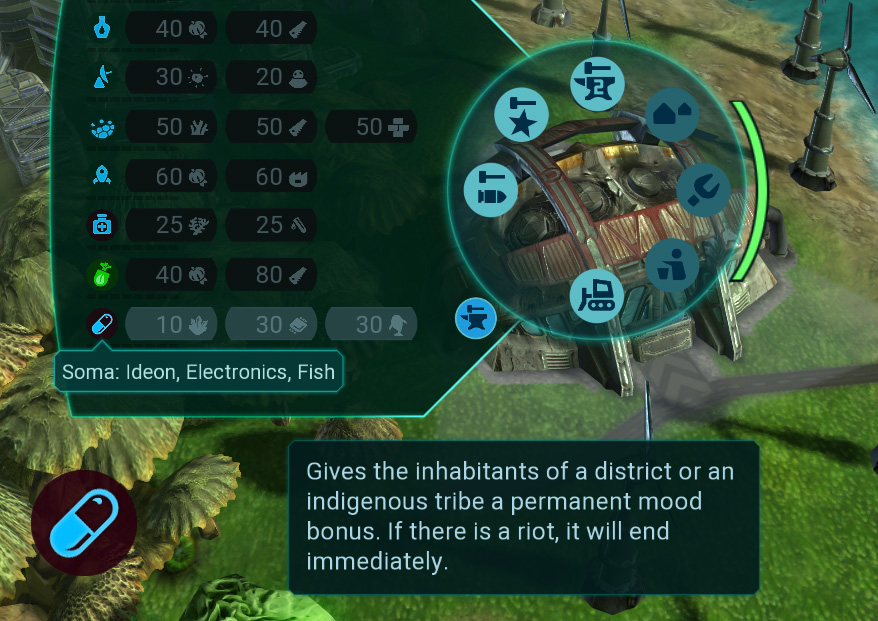 To sum it up: it's raising the general life quality and helps against riots.
New City Center Animation
A new age of ingame animations awaits us! Starting with the colony center base which is expanding in various parts that screw, bend and turn out of the ground when the landing capsule is coming down. The worker drones are now stationed on landing pads from which they will lift off to build and repair.
Anti-Aliasing
Might sound a bit weird but we had to disable this basic graphics feature for ages due to framework issues. But what it adds to the game's look is awesomely amazing. Lovely, calm and soft edges everywhere especially when you zoom out from the planet, have a look.
Biome & Forest Diversification
Ralph sent us a very detailed feedback with improvement suggestions to make the environment and nature more realistic (Thanks!). Based on this we decided to further diversify the biomes and forests:
Forests in fertile areas are often better at binding CO2. This is for example the case for rain forest and bog forest
Big fish swarms are more common in cold areas
Industrial farming and fishing reduce fertility

Steppe is bad ground for forest growth, but quite good for farms and especially resistant, so fertility is only slowly decreased
Rain forest ground in contrast is easily damageable and loses it's fertility fast
Fixes & Improvements
Added achievements for Edora, Iqunox and Thera and when reaching 40 points in the campaign
Workshop queue is only available for workshops of level 2 now
Camera position is restored when loading a savegame
Priorization stores at least 10% of a resource's production. This amount is now shown in the list of consumed resources
Fossil resources below 10% will decrease a fossil power plant's productivity (up tp 20%)
Fixed bugs in highscore list
New unlocked items are highlighted in the inventory
Switched background music compression from ADPCM to WMA streaming
Fixed game freeze and window disappearing problems