Greetings comrades! It's that time of the year again when mods collide to show off their skills in the competition for the honorable MOTY top 100.Last year we had other things to think about, and decided to pass... we didn't even make a single update..This year we will have no such nonesense, and we have prepared for you an update so juicy that it will quench your thirst for... um... who are we kidding? It will leave you thirstier than ever!
So what cometh forth from santa's base today? Not one, not two, and even not there, but four! Indeed; four exquisitely well made assets for the allied side.
---
First out: The AA Gun: The old classic is back, more fearsome than ever! This heavy quad anti-air gun can (and will) rip any enemy birds from the sky... and planes too!
---
The AA tank: Brand new out of the toy factory, some mobile bird reapers ready for you general! If the birds won't come to you, send out your AA tanks to defend your troops and and shoot down those pesky enemy planes wherever they are.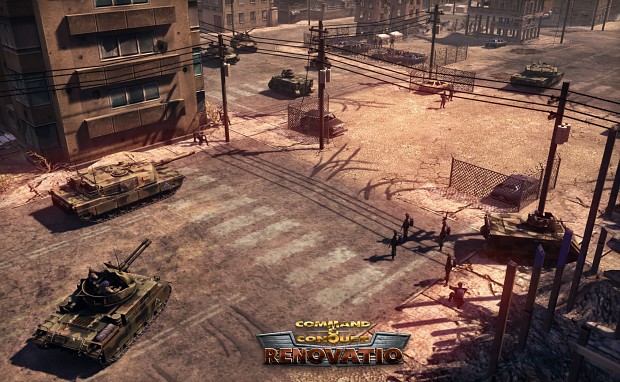 /
---
The Light tank
: Light, fast and deadly! Bring quick and reliable support to your troops with the fast and deadly light tank. But watch out for the guys with the big guns, or it won't last long.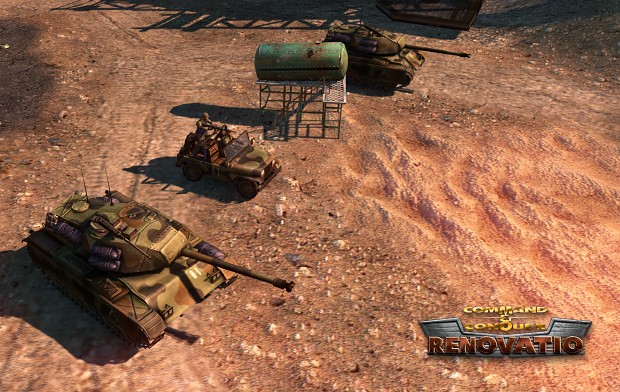 ---
The Radar Dome: A mix of classic designs with some hints of personal touch makes the radar dome come back to life! Make sure to put a radar in your base, general; you can't fight what you cannot see!
---
Like what you see?

Vote for C&C Renovatio for mod of the year 2012!
---
So when will your thirst be forever quenched, you might ask... and when will we see the Scavengers again? As you may have noticed, we are concentrating heavily on the allied side, and we plan to release an allied-only beta version of the mod as soon as the side is done. Unfortunately, we don't have much man power, so it's still likely to take a while. Think you can help us speed up the process? Join us today!
We are currently looking for:
3D Artists - Mainly for civilian and mission objects, as most of the faction models are done
2D Artist - Promotional art, Textures, Posters.Voice Artist - Unit Voices, of course. Preferably able to come up with quotes too.. we don't have much time for that ourselves.
Mappers - C&C3 Mapping in great detail is a must.
PR - News & Blog writing. Just like this.
Anything you can additionally suggest.
Send basic info (bio, specialties, examples) to:Oleg - Oleg_Balzanov at yahoo dot comLars - chronosheep at hotmail dot com