It is that time of the year where lunatics with bunny masks roam the kingdom and joust each other to death for the fun of it. So grab a bunny mask and join the action!
In this Easter event you will find lots of bunny masks and eggs in lots of variations. That also includes game manipulating hidden eggs that you can find in the menus, just click on them to activate them.
This update also marks the 2.0 version number! I guess that means it is complete x 2.
New are animations for the other rider, they will now cheer when they dodged a obstacle successfully and react to you sometimes. It makes it all the more fun to watch when they die just while they happily throw their arms in the air or when they look back and then run right into a obstacle.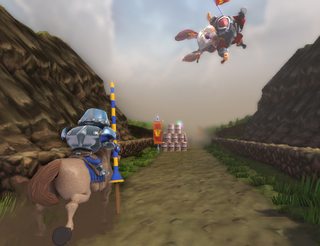 Changed are the extra cameras which are now all located on the number keys, when you press a number multiple times you get to additional cameras as A-D. Camera 1A is the default camera. When you press 0 you get cinematic randomly changing cameras.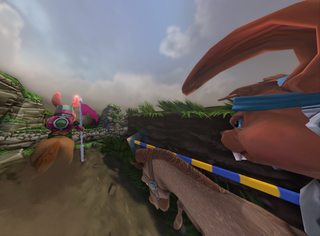 For first person the FOV can now be changed with the number keys, 1-9 with 0 resetting it to the default FOV.
In the past couple of months I got into 3d printing and I had to print Last Knight models as well. For the skeleton I went the extra length and made it so that his bones snap together and his body can then move:
More:
Thingiverse.com
I also printed several versions of the knight helmet with the version that is printed in parts being the newest. It can then easily be assembled: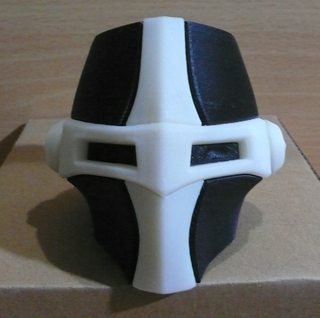 Unfortunately I had no blue nor silver filament but it looks also pretty cool in black in white. It might be the noble white and black knight who fights for tolerance and equal rights.
More: Thingiverse.com
If that got you interested in 3d printing you will find lots more of my designs here, which includes a Professor Farnsworth, a fruit tree, the whole world, a Invader Zim action figure and of course a bunny: Thingiverse.com
I'm not starting any merchandise for Last Knight here but I have also uploaded the skeleton skull as a keychain for purchase on Shapeways which can even be printed in 14k gold if that should be your thing: Shapeways.com
The update also includes some tweaks and fixes. Here is the change notes list:

notes wrote:

- Added Easter Event
- Added other rider animations
- Changed extra cameras to be all on number keys
- Changed first person fov to be on number keys
- Changed 0 key to be randomly switching between extra cameras
- Changed x-mas modes to require unlock again
- Tweaked some menu things
- Fixed gamepad x button
- Fixed suprise surprise mode mutators staying active after run
- Fixed exit game animation still having menu controls
- Fixed medals for different campaigns not updating instantly
- Fixed lance aimring ray setting not saving
- Fixed a issue with the music system
Happy Easter!
David Hagemann
Toco Games
@TocoGamescom - Lastknightthegame.com