Well, some of you maybe know something or even following this mod for CS:S. If not - It isnt going to be mod at all, it will be more something like SKinpack with custom maps, GUI and of course skins for both weapons and player models. Anyway, here is the update !
M249
Only MG in game with good firepower, but lacks some good accuracy. Post-Apocalyptic version is going to have custom wooden stock ( inspired by PKM ), watches nailed to gun to let shooter know how long can he shoot before gun overheats or simpy show time - and off course covered in dirt, mud and blood.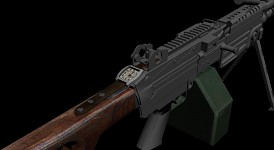 AK-47
Gun used widely by most of CS:S players with good firepower and accuracy. And Post-Apoc ? Samopal Vzor 58 assault rifle, with cloth wrapped around it, covered with tape, rust, dirt, mud and blood. Its scratched like gun should be after 100 years of service. Equiped with old rusty bayonet that will find its use in fight with mutated animals and ex-people.
( Click on the image for bigger resolution )




Complete gun models and textures, find more modders to help. ( read - all Mapers, scripters, compilers, texturers, modellers - Send me a message ! We truly need you ! )

Weapons
AK-47 ( development in 25% )

AWP ( Done )

SG552

AUG

M4 ( Done )

M249 ( Development in 5%)

UMP .45

MP5

TMP ( Development starting )

MAC-10

P90

M3 Super ( Development starting )

XM1014

FN 5-7

USP

GLOCK

Desert Eagle

Dual Elites

P226

Scout

G3/SG1

SG550

Grenades

Knife

Maps

De_map 1

De_map 2

De_map 3

De_map 4

Cs_map 1

Cs_map 2

Cs_map 3

Fy_map




AWP_map