For all you Command & Conquer fans that follow this Mod's progress, I am happy to announce the next version of New Horizons; Version 9.
New Horizon's 2nd Campaign Mission (Operation: Pacific Storm)
Version 9, whether in it's 1st iteration or it's follow-up, will include the 2nd New Horizons campaign mission, for the Soviet/CSTO faction. The New Horizons campaign missions focus on possible modern real-world flashpoints, including likely scenarios in the outbreak of WW3. The new campaign missions from the Soviet (now CSTO) faction are largely defensive in nature; NATO, led by the U.S.A., has surrounded it's adversaries with a military buildup of bases and hardware unlike anything since prior to the commencement of WW2 by the Nazis, and launch a full-scale invasion of CSTO, and CSTO-allied states. In the first mission (Dark Dawn), the player is briefed to participate as a representative of a small Russian contingent in the quadrennial CSTO defensive drills (which are known as the 'ZAPAD' drills), this time held near the western Belarusian border. The mission drastically changes when NATO launches a full-scale invasion, forcing the player to find a way to withdraw to safety eastwards, before being surrounded.
The 2nd mission takes place on the opposite side of the world; in the far eastern zone of the Russian Federation. Specifically, one of the Kuril Islands in the western Pacific Ocean. The island is loosely modelled on an actual island, one of the few with known military bases on them. You will be responsible for the defence of an artillery base on the island, with the main tasks of defending your positions, and preventing invasion ships from advancing past the Kuril Islands and threatening the mainland. An armada of invasion ships will be directed against you, including carrier battle groups, as well as aircraft, drones, submarines, and landing craft. You will however have at your disposal besides various artillery pieces, an airfield, a base with underground facilities housing additional equipment*, and available reinforcements from the mainland.
New Equipment
Version 8 saw artillery systems have a range advantage greater reflecting their capabilities in real life (scaled down approximately in RA2 terms). Some units were also accompanied by appropriate reload time increases, such as MLRS's, allowing for a more strategic gameplay. With recent developments in high-end military technology, certain pieces of equipment have become impossible to overlook, especially with the implementation of the new missions. So let's get into it. Recently, the Russian president unveilled several new strategic weapons of deterrence, such as various hypersonic weapons, miniaturised nuclear reactors giving the carrier vehicle near-infinite range, and even a laser weapon. Most of these would be not just difficult to implement in the game, but moreso Over-Powered, But there are others which can be implemented that I have worked on recently adding.
Iskander-M: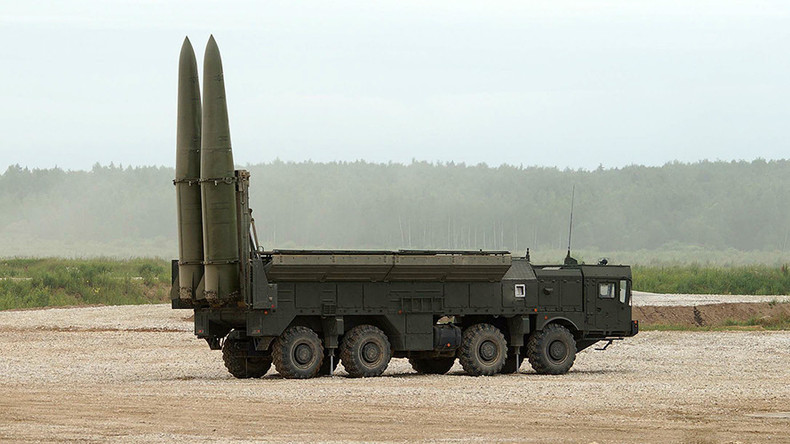 The Iskander-M is a tactical ballistic missile system, that can be thought of as a successor to systems such as the Scud, or the Tochka-U, (or in Red Alert terms, the V3 Rocket systems). It is a mobile missile lauch system with a firing range of up to around 500km. What makes this system so special, is it's ability to fire nuclear-capable stealth missiles at speeds multiple times higher than the speed of sound, that are capable of ultra-high maneuvreability to avoid being shot down. The system is known to have a very high accuracy (5-7 metres). While this latter feature is not quite possible to implement in the game, the system will be able to fire it's 2 missiles at a high altitude, and at a high speed, making them very difficult to stop. Elite ranking Iskander-M's will have a small tactical nuclear payload. Having one of the longest ranges of any weapon in the game, and a hard-hitting weapon, it will also be very expensive, and time-consuming to produce. The system will also be slow firing, and slow to maneuvre, as well as being lightly armoured.
Bastion K-300P:
The K-300P is primarily a mobile anti-ship missile system. Depending on the missile used, it's range is said to be up to 350km for sea targets, and 450km for ground targets, however in the game for balancing purposes, it will only be able to target sea-based units. The system fires missiles that travel multiple times the speed of sound, and have a devastating impact on ships. It can be considered the similar to the S-300, but for ships.
Lastly, I have implemented the much more talked-about system (at least in media hyseria terms), the S-400 air defence system. You should all be familiar with this system, as it's predecessor is already implemented in this mod (the S-300). The only difference in this system being the increase in effective renge.
Watch this space for updates, and in the meanwhile, enjoy the mod!