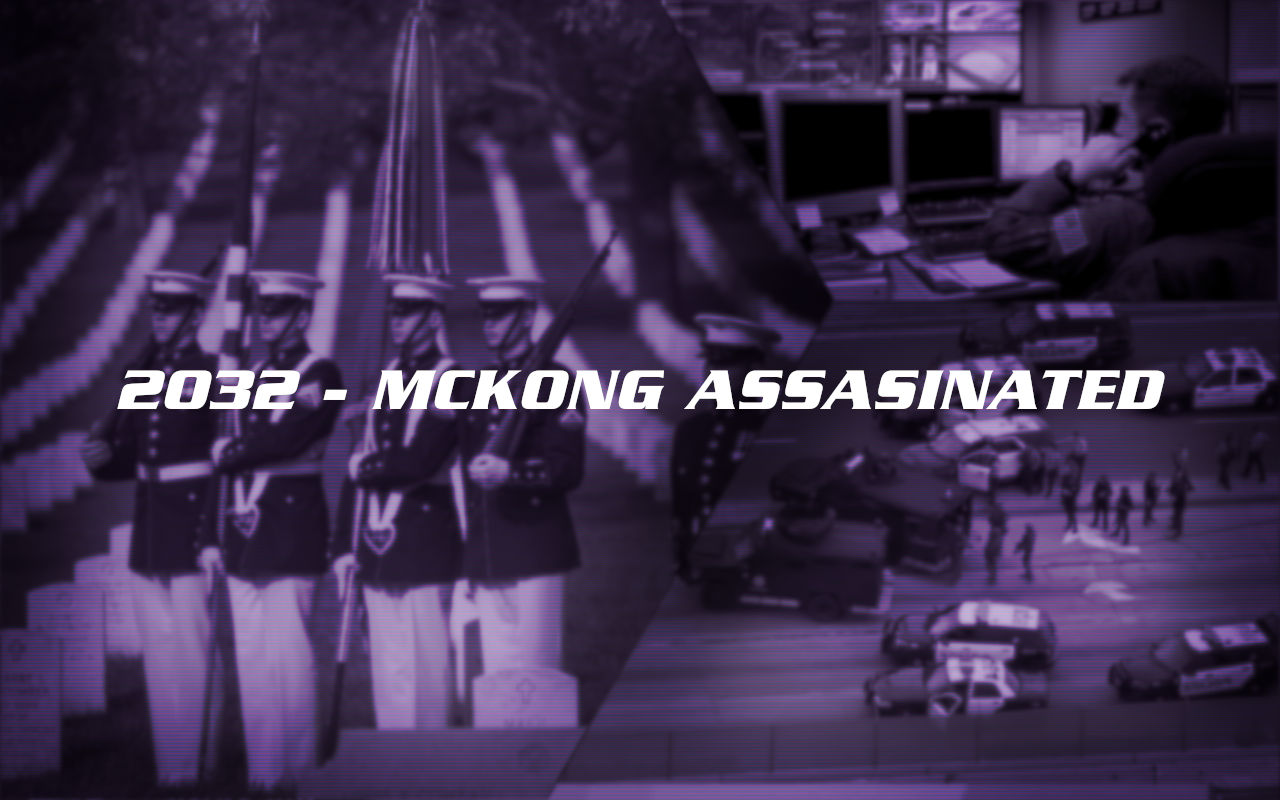 Then came the 1st of November of the year 2032. With only four days left until the presidential elections, both parties were in full swing, campaigning for their candidates all over the country. Since McKong couldn't run for president again, Patriots put forward his right hand, the current Vice President Wilson Garfield. A man talented in handling dirty parts of the politics, but lacking the vision of the grand scheme of things, necessary for a leader. Because of that, the higher party echelons saw him only as a puppet that would let Duayne McKong rule from the shadows. This plan never came to be.
9:37 PM local time, Detroit, Michigan. Duayne McKong gets shot two times during a fiery speech on American achievements. First bullet hits and shatters the breastbone, the second fatally pierces through his heart. Paramedics confirm death on the spot at 9:39 PM while the audience panics. Secret Service and local federal units identify the snipers within 30 minutes; Jacob Dionne and Calmélius Vincent, both members of the Communist Party of Quebec, affiliated with American socialists. The Detroit Police Department reports at 10:13 PM that in the meanwhile the assassins have escaped police pursuit, crossed the border and are now hiding in Canada.
Wilson Garfield, immediately escorted to a safehouse, orders the officers to continue the chase, ignoring the Canadian authorities. Shaken and enraged, he then boards Air Force One at 10:15 PM in order to return to Washington DC while the US Secretary of Defence announces DEFCON 3. Every military base on the continent is put in increased readiness while the paralyzed American society watches. At 10:23 PM Garfield, still in the air, swears the oath and officially becomes the 50th President of the United States.
Moments after, he receives a call from the bewildered Prime Minister of Canada who demands an immediate explanation for the ongoing armed transgression. President Garfield puts it bluntly - no force will prevent justice from being delivered. Powerless border guards, ordered to stand down, watch from afar as a joint convoy of FBI and police forces catches up and immediately guns down the fleeing assassins. McKong has been avenged. It is unknown how the assassination and the escape were possible in the first place, as Garfield himself oversaw the on site security.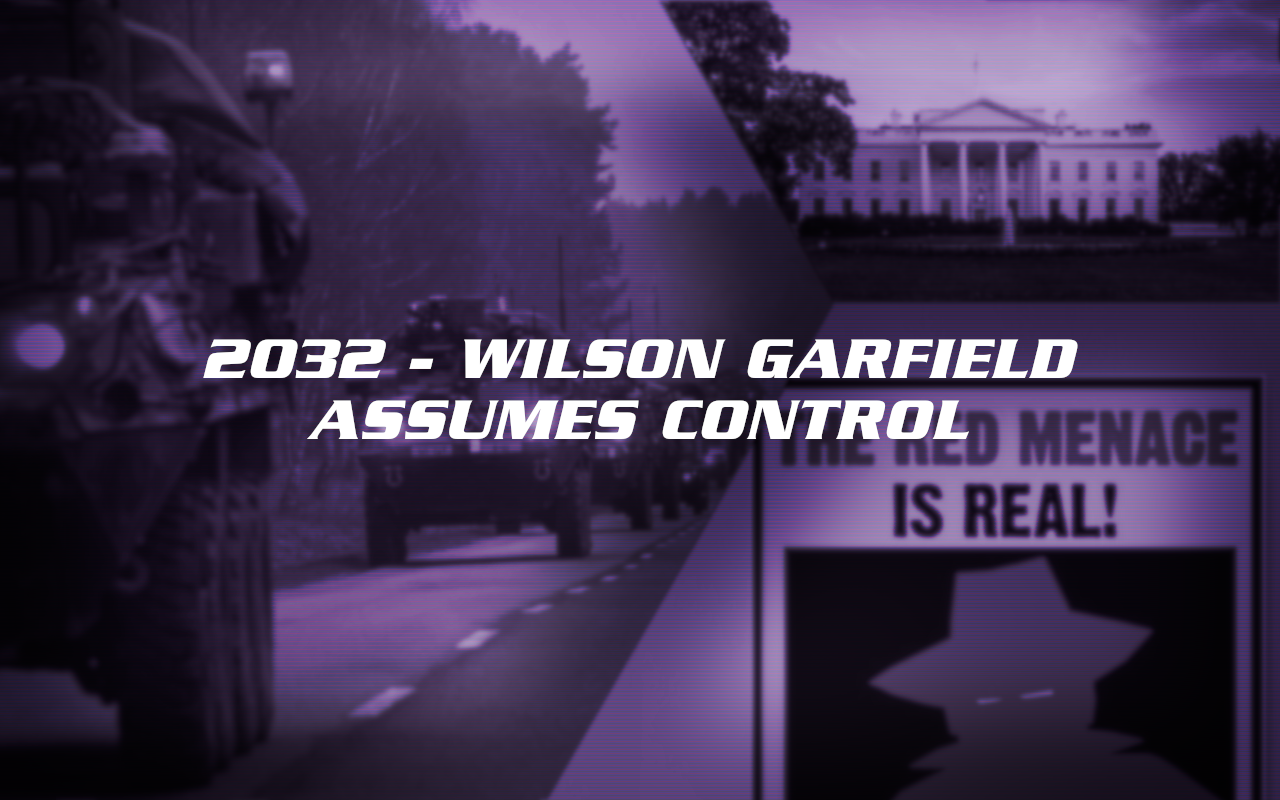 American society breaks down as people who come out to mourn collide on the streets with people who celebrate the death of a tyrant. In the midst of it, President Garfield makes a special announcement. Everyone, everywhere stops as the Star Spangled Banner rings from radios, TVs and mobiles from San Francisco to New York. "Today, America has been dealt a devastating blow. We have lost a great man, our pride, President Duayne McKong." he relays to the public. "This loss is irreplaceable, and even though nothing can bring him back, justice has been swiftly and decisively served. Thanks to the immediate action of many men and women in service, the crazed killers are no longer a threat.".
He then changes pose, leaning forward his imposing figure. "However, this is only the beginning of our work. Our home is terminally sick. What has transpired today is a single symptom, and the final warning." The streets are filled with dread and silence. "Our country is being consumed by cancer. We have already put forward a diagnosis. It is a red cancer, a godless cancer, whose cells destroy and infect the innocent to sustain their sickening little anarchy." his voice thunders.
"But there is a solution. Just like a doctor's hand guides a scalpel, we will tear down this conspiracy against our land. We must answer violence with violence. Hatred of this magnitude cannot be helped. We must defeat them, because they don't know that this will doom us all. This is a great challenge, and this is an uphill battle against their lies, against their crimes, against their puppet masters. But we Americans only know victory, we have never, ever been defeated."
"Men and women of America, you are destined to greatness, and the very land you stand on is living proof of that. I believe in that, and this is why I have been entrusted with the leadership of our country. I promise you right now, and I will not yield until it is done - we will win our America back! We will continue the achievements of our ancestors! We will secure a brighter future for our children! We will cut this sickness off! God bless you, and God bless America!"

To be continued... Later...