Of all the Xin ship breeds, it is the Chimera motherships which perhaps present the greatest threat to undefended but populated worlds. Although it does not sport the fantastic firepower of an Emperor battlecruiser, or the immensely strong armor coating of a Tyrant battleship, the mere presence of a Chimera in a theatre of war can none the less often turn the tide of battles.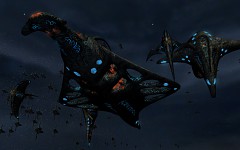 A Chimera mothership in the middle of a Xin Battle Group
The primary purpose of a Chimera is to seed new worlds for the Xin. For that purpose it can grow specialized pods in the bioform vats located throughout the vessel, and release them into the atmosphere of a planet once all defenses have been taken care of.
However, even if the planet is inhabited, the Chimera can still claim it for the Xin. But in that case, instead of seeding a desolate world with new lifeforms, the seeding pods release specialized organisms custom-tailored to wipe out existing eco-chains and reform them to better serve Xin purposes.
In other words, instead of scorching the surface of a planet like a Sovereign planetary assault ship would do, the Chimera can effectively create a Mass Extinction Event by introducing extremely aggressive agents into a world's biosphere. This process, however, takes longer to complete than simply glassing the planet, although once started it is difficult, if not impossible to stop, even if the Chimera is chased away or destroyed in the meantime.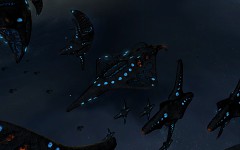 Although poorly armed, the Chimera is fairly well shielded.
In combat, the Chimera fares considerably poorer than more dedicated ships; it is not designed for front-line duty. Its primary weaponry consists of quad guided plasma ejectors located behind the "head" - like most Xin ships sporting these, the Chimera can attack targets both to the front and to the sides, although the low firing speed and number of ejector ports means it will be at a disadvantage against more combat-ready ships.
In addition, the Chimera can also release periodic swarms of gestated proto-drones; small, larvae-like creatures which are meant to one day become full sized Xin drones. These creatures still do possess the ability to move on their own, and can utilize their rudimentary weapon apparatuses to attack targets by latching onto their hull or blasting their shields point-blank range.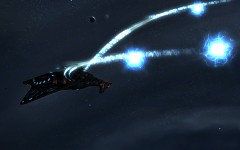 A Chimera firing its guided plasma ejectors.
Last but not least, the Chimera can release clouds of specialized spores through the cracks in its outer layers of armor and skin. These spores can then be ingested by other Xin vessels, whereupon they can perform various maintenance tasks, providing rapid regeneration of damaged Xin ships and even being metabolized for a quick boost in energy replenishment.