After about 4 months in Early-Access, the game is now officially released. It has been a long journey and collaborating with all of you has been one of its most exciting steps.
Early-Access ends
The Steam Early-Access program has been very beneficial to the project. Your reports defined what would make a great game. Your many positive reviews motivated us to respond with passion and dedication. Syncing with your requests assisted us in reaching our goal and bringing the game to release.
We are not only talking about bug fixes and necessary balances, but also new features that we added following your criticism and feedback. We wish we could add more, but development could not take longer and we believe that we've built a complete and innovative game. Nevertheless, we will continue to support Ultimate General: Gettysburg and we hope that you will enjoy it for a long time.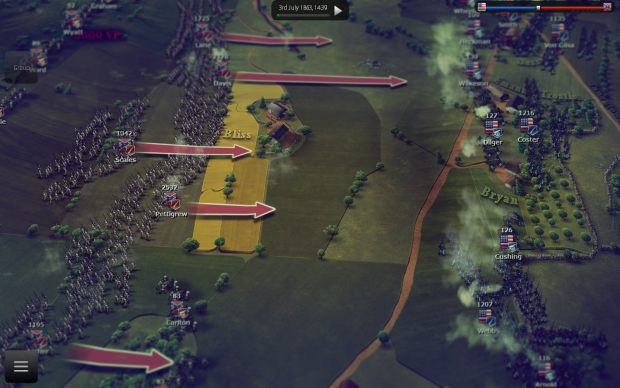 A Brief history of Ultimate General: Gettysburg's development
The project starting taking shape around a year and a half ago. We announced it last July by explaining our main goals for the game features. In our developer blog, we frequently provided information for our progress. On 12/2/2014, Ultimate General: Gettysburg attempted to get Greenlit on Steam and after 8 days, it succeeded.
Before we enter the Early-Access phase, we needed to fix major inconsistencies, instabilities and bugs. For this reason, we invited more volunteer testers to assist us by play testing. The big time came on 12th June 2014 when we finally released the Early-Access version. You can read the full version history at this link.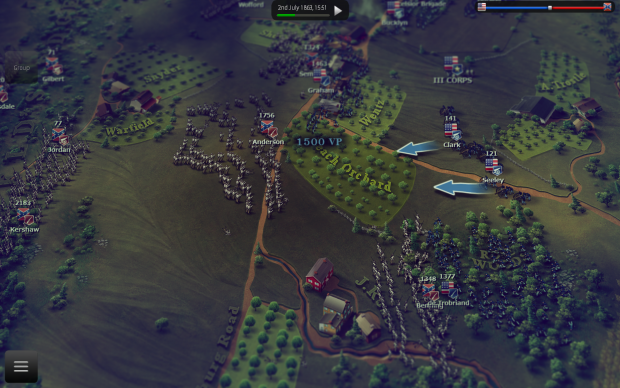 We welcome new players
Ultimate General: Gettysburg is the first released game title of Game-Labs. We tried to introduce many new and innovative features such as the unique movement gestures and the realistic line of sight and emphasized on tactics and AI. The battle of Gettysburg is one of the biggest and most important battles of American history. This is why we approached the design with extra care to historical accuracy and paid attention even to minor details that would mean a lot to everyone who is interested in American Civil War.
Ultimate General: Gettysburg is now available for Windows and Mac PC on Steam store
Soon it will be also available in MacOS store and other platforms.
We invite you to our main site to read and learn more about Ultimate General: Gettysburg:
Ultimategeneral.com
Although the gameplay is very easy to grasp, we made a handy guide to help you start playing:
PDF Guide
If you want support or want to write your impressions about the game, then head to our forums:
Forum.game-labs.net
Steamcommunity.com
What comes next?
We are going to continue to support Ultimate General: Gettysburg and in the meantime, will focus our efforts on the mobile releases, firstly for iPad. In parallel, we will work for future battles, possibly based on a different era as well. Thanks to your amazing support, the Ultimate General brand has successfully entered the strategy gaming world and is going to offer you more titles. Follow our progress and you will not be disappointed. Meanwhile we would appreciate if you review our game on metacritic and steam review section.
Many thanks, and have fun with our game,
The Game-Labs team