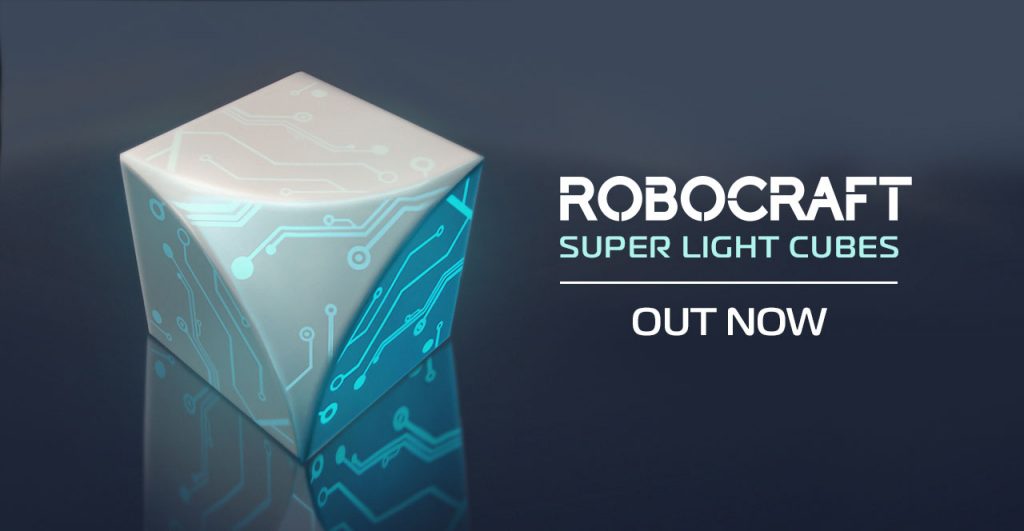 We've given the humble 'cube', the building blocks from which all robots are built, some much-needed love with our latest update that's out now! The new update gives builders more creative freedom to construct great robots without sacrificing how they look. In addition, we have added a new 'Health Boost' system which will give your robots an additional health boost % for every block placed on your robot.
---
NEW:
Chassis Shape equalization- all Chassis Shapes will have the same Mass, Health and CPU. As all shapes now have the same stats, you're no longer forced to make square, blocky robots in order to have as much health as possible - you're free to experiment with all the different shapes. The stats are:

Mass: 10Kg
CPU: 1 pFLOP
Health: 1,500

Light Chassis Shapes - The shapes lovingly known as TX-Cubes are coming back to Robocraft. Now known as Light Chassis Shapes, these new building blocks have less mass than standard Health Blocks and are perfect for creating lighter, more agile robots. The stats are:

Mass: 2Kg
CPU: 3 pFLOPS
Health: 4,500

For more information on the new system, read our recent Dev Jam.
Health Boost System - Each Chassis Shape (Health or Light version) placed on your robot will grant a 0.05% health boost to the robot's total health. This means that all parts on your robot will have their health increased by this %. Players will see a running total health boost in both the edit mode screen and garage screen.
The benefits to using Health Shapes on your robot is that as they use less CPU than Light Shapes, you can get a bigger health boost for the same CPU cost. So, placing 100 Light Shapes which costs a total of 300 CPU will give you a 5% health boost to your robot, using 300 Health Shapes will give you a 15% health boost.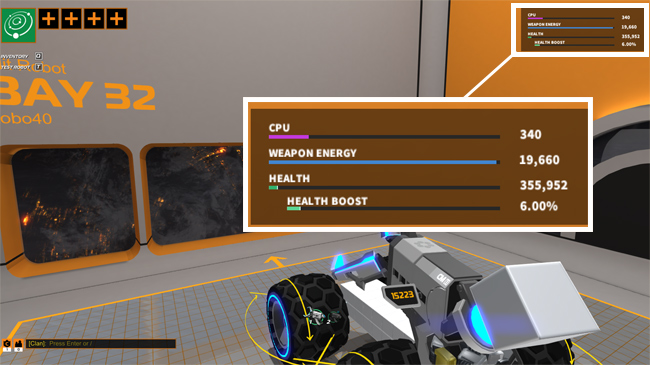 Garage carousel and bay improvements - We've given the garage bay a much-needed tweak; adding new buttons to make it easier to edit, test, upload, and configure your Robots.
Robot stats in the Garage Bay - We've removed the CPU strip from the robot carousel and added it to a new robots stats overlay which details CPU, Weapon Energy, Health and Health Boost.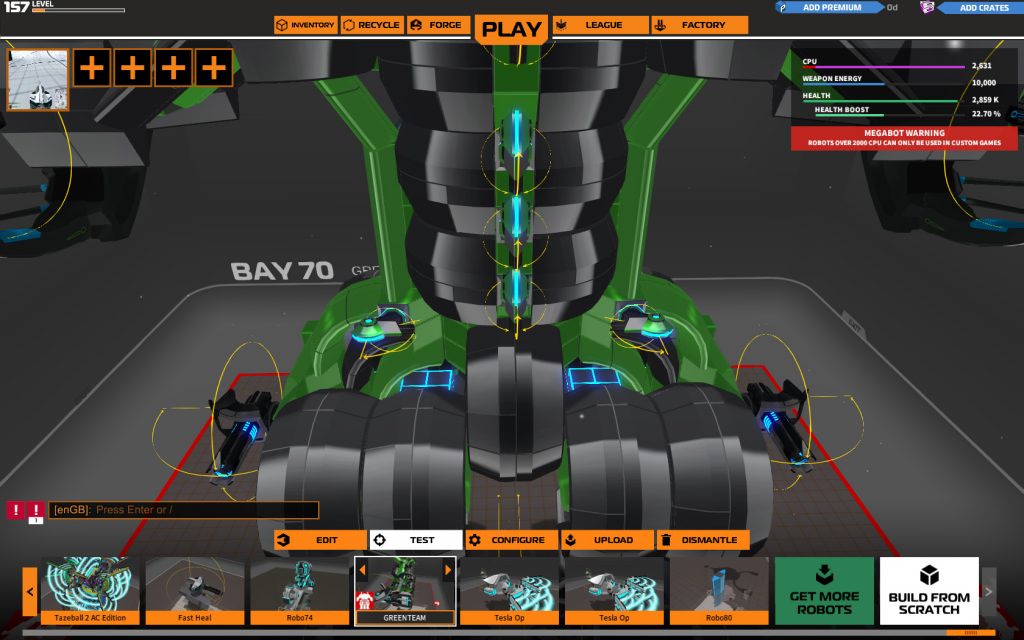 New play menu - To reflect the improvements to the garage bay carousel, we've given the 'PLAY' menu an overhaul, making it easier to find the game modes you want quicker.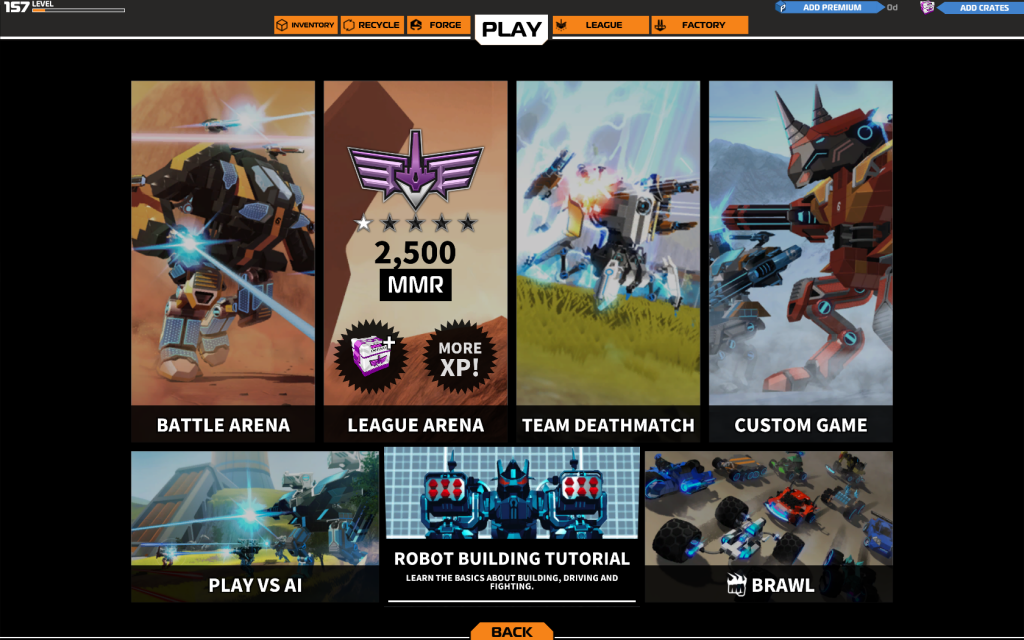 Disable Chat added to settings - It is now possible to completely disable the in-game chat box via the settings menu.
IMPROVEMENTS:
All standard cubes renamed to Health cubes
'Add Bay' button in robot carousel renamed to 'Build From Scratch'
Browse Robots button in the garage carousel renamed to 'Get More Robots'
General improvements to CRF sorting and robots shown by default
Edit and Test mode removed from the play menu (as these can now be found above the garage bay slots)
Edit and test mode removed from the custom games screen (as these can now be found above the garage bay slots)
Players dismantling all their robots in the garage bay will no longer result in 3 empty slots - players will now see one empty slot, but can still create more
Tutorial renamed to 'Robot Building Tutorial'
Curse Voice logo removed from the login screen
BUG FIXES:
Fixed a bug which allowed players to buff themselves in Play vs AI mode
Fixed a bug which failed to display the padlocks on game modes if a player had a megabot selected and went direct to the play menu via the CRF
Fixed a bug which permitted players to build a megabot over 10k - although it was not possible to play this robot in battle
Fixed a visual bug which failed to 'grey out' the + symbol on both the custom games and party player widgets for invitees
Fixed a visual bug which failed to display the correct mouse-over effect when hovering the mouse pointer over a garage bay slot
Fixed a bug which caused the mouse scroll-wheel to zoom in/out the garage bay regardless of where your mouse pointer was situated
Fixed inconsistent labeling on the premium mothership floor
Fixed display issues with the game mode details for multiple languages
Fixed a bug which made it possible to blink through part of a solid feature under certain conditions
Fixed a visual bug which cropped part of the top of a party leader's crown in the party widget when queuing for battle
Fixed a bug which caused the pause menu to appear when a player pressed the 'ESC' key when on the 'per garage bay' setting or 'dismantle robot' pop-up instead of closing the pop-up
Fixed a bug which would, under certain conditions, nullify both a DSM and an enemy shield when adjacent to each other
Fixed inconsistencies with UI margins and widget positioning
Fixed a bug which caused the CRF to show robots with no weapons or movement parts when the "any movement" and "any weapon" filters were selected
Fixed translation issues for both "Health Multiplier" and "Weapon Energy Multiplier" in Custom Games
Fixed text alignment issues for some weapon information when German language is selected
Fixed a sizing issue with the background for the leaderboard when playing Pit Mode
Fixed a bug which caused the language list to remain open if a player closed the settings menu while the language list was still open and then returned to the settings menu