The new download includes now three of five districts of the city of Ferdok. It's a full update, so you need only the Kosch2 v0b file. In the northeastern most part of Fuhrmannsheim there are now two examples of standard interiors. The tavern Sanfte Sau and a dwarven lower class home.
To visit Ferdok, it's recommended to start a new game or use a savegame where you haven't left the sewers for the first time. The mod is still in concept stage, so be sure to not save your game in order to keep the savegame clean. When you leave the sewers for the first time, just swim/walk across the small river to the east and follow the street to the south. After a short walk, you'll already notice the dockside on the southern shore of the new river. It's hard to miss, because the river crosses the path to the south.
For those who are not familiar with the game Drakensang, the northernmost districts of the city are Ugdan Hafen and Fuhrmannsheim. Ugdan Hafen is the docks district, which can be accessed by crossing the bridge over the (new) river. It contains the warehouses of the Neisbeck and Stoerrebrandt families, the tavern and the Ferdok brewery. To the east of Ugdan Hafen is Fuhrmannsheim, the home of the thieves guild and the Phex temple. The tavern can be already accessed, and the door nearby leads to a dwarven standard lower class home. It's clearly a dwarven home, as there's black smith gear included in the kitchen. Yep, you guessed it, it's because of the dwarven bread. It needs to be forged somehow. South of Ugdan Hafen, there's the third district called Praiosplatz, which is dominated by the two big temples of Praios and Hesinde. The districts are separated by inner city walls, and every time you walk through a gate, you're entering a new district.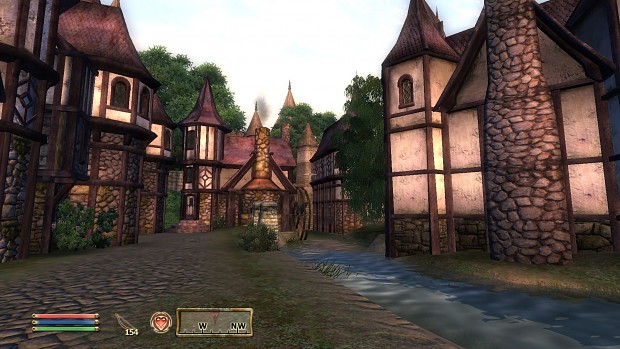 All districts are using a unique mixture of architecture styles in order to create the atmosphere of the city, which is inspired by the game Drakensang. Unfortunately the game studio doesn't exist anymore, and the mod is created to make some new stories and places playable ;)
The next two districts i'm currently working on will be Grafenstadt and Zwergenviertel (Dwarven district). When the city layout is finished, i'll strt working on the path grids and interiors in order to populate the whole area. For those who are familiar with modding oblivion, the city is located east of imperial city in the cells of 15/15 to 20/15, expanding to the south. It's roughly the of Imperial City and replaces already some vanilla parts which are needed for the Oblivion main quest. Two Oblivion Gates and the Wellspring cavern which is needed for the Mage guild quest. That's why you'll probably want to keep your savegames clean ;)