Hey, it's been almost three years now. Beta 3.5 should coincide, more or less, with our third anniversary. I decided to call it final because this upcoming version is the one which completes the initial feature set I had in mind. The mod may continue with smaller updates if necessary, but this is the full incarnation of Fistful of Frags and not big changes are expected from here. There's however a big chance to see this mod evolving in a new and exciting project, some things will be said at the end of this post.
Dual wield revolvers existed since first beta, they were created as a single gun though. It was a compromise solution until fully fledged duals were implemented. There are many complications involved, you don't see Source mods featuring truly dual guns every day. On the other hand, once you know how everything is easier. This was the case and our implementation came along any major troubles. A dream comes true.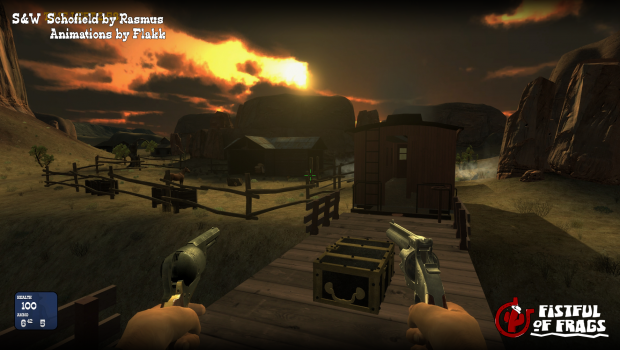 Real dual wield guns was only half the way, the other half are new guns. Mare's Leg (legendary gun from an old tv show), Colt Walker (portable cannon of Wild West era), S&W Schofield (first top break revolver) are the new weapons you gonna love/hate. I'd like to thank all the (old and new) folks who made them possible, in no particular order: Euan Mitchell, Flakk, Millenia3d, Martidore and Rasmus.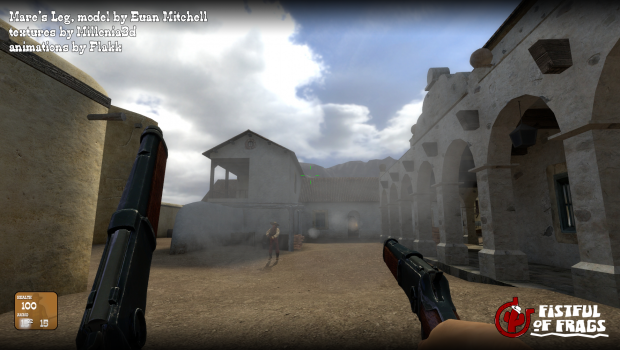 And there's more... hybrid gameplay. Beta 3.5 features a new game type which involves NPC customization and creation in a way you haven't seen before. It would be long to explain, so I'm leaving this for an upcoming news post. For the moment, I'll just say this is an experiment , it anticipates some of the gameplay elements in a fantasy Western project I'm after since long time ago.