Hey folks!
1. It got a bit silence here on this blog for the last time. Except some entries about journeys to promote TRI, we are currently planning a new project. At least we try. It's not easy to come up with something that beats your 3-year game project without consuming so much time and nerves.
But then, this baby brought us the wonderful nomination for the Deutsche Computerspielpreis (German Computer Games Award) in the category 'Bestes Jugendspiel' (Best Youth Game). Together with the awesome The Last Tinker by Mimimi Productions and "The Curious Expedition" by Maschinenmensch we will attend the award ceremonies on April, 21st in Berlin.
Until then, there is the opportunity to push us higher for the audience award and even win a ticket for the ceremony. Just head to this page and follow the instructions below. It's easy-peasy until you encounter the German anti-spam question under your e-mail. Just use Google Translate or write us a mail or tweet and we help you.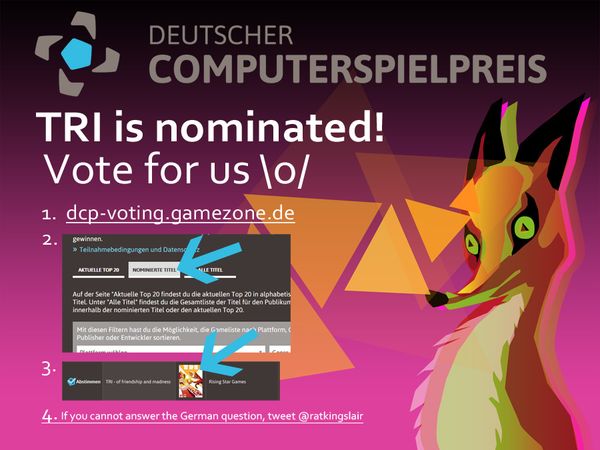 Thanks a lot!
2. Another thing is especially for indies from Germany, Austria and Switzerland: I'd like to find out who we are, how we make games, how indies finance their projects and if they are happy. Help me grab some data and fill out this survey -> Here.