Avari
Of the Elves who refused the journey into the West there are many kindreds, some as sundered from each other as they are from the Eldar, living in isolation from the other folk of Middle-earth, lovers of starlight and untamed lands.

But of late the Avari dwelling in the forests about the Sea of Rhun have had reason to watch their neighbours warily. In the plains beyond their borders, dust rises from the hooves of cavalry and the wheels of chariots; the light of the Sun glints red on helms and spear-points; the distant airs shudder with the horns of war.

Not like their kin in the West do the Avari march to battle under proud banners, leading hosts clad in mail. Theirs is not a history of kings and conquest. But the time may draw near when they must gather in arms to protect their lands.

And maybe more. For, if they are not to fade into the fastnesses of the woods and hills, becoming in their turn a hunted and vanishing people, why should the Avari not do as the proud Sindarin princes of long ago, and make realms of their own?

Tier 1

Avari Spears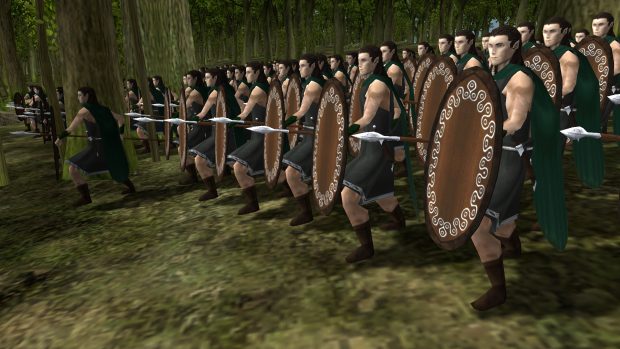 Among the Elves who remained in the East of Middle-earth, the spear is still one of the most widespread weapons: easy to craft from materials readily found in the forest, it is of use both on the hunt and when defending their dwindling territories. Companies of Avari Spears are often assembled when a foe threatens more than mere trespass and must be met in the field. Protected by a light shield, they are quick and agile fighters who can stand in a battle-line and mount a good defense against enemy riders or light troops, but determined and aggressive warriors may overwhelm them.

Avari Skirmishers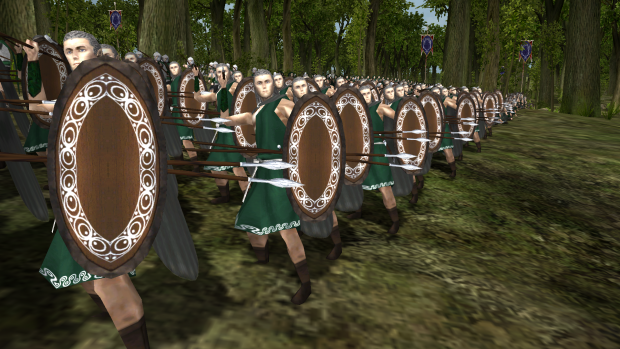 These light warriors rely only on a shield – and their speed – for protection, but when deployed in hiding amongst the trees or skirmishing with heavier, slower troops they can cause great damage to a foe. For all their swiftness of foot, they cannot outrace cavalry, so should be protected by better-armed fighters, especially in open terrain. A spear throw from these hardy Elves can bring down even a heavily armoured soldier, but when they have cast all their missiles their axes are best brought to bear against light infantry.


Tier 2

Avari Swords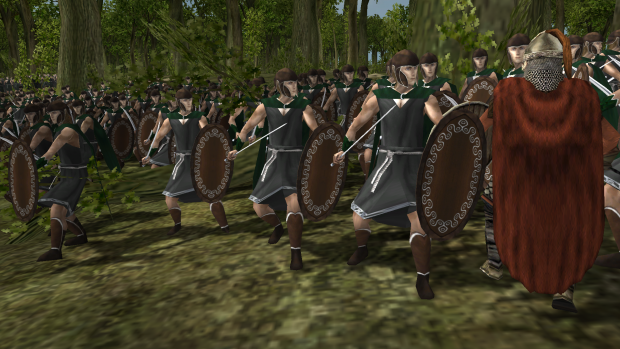 Wielding inward-curved blades and equipped with a shield and light helmet, the Avari Swords are armed solely for melee – though they depend more on agility than on armour for defense. Companies of these Elves are called to defend their forested homelands, or to campaign against a threatening foe, and in battle they serve well as troops of the line, able to hold off a charge of infantry or surge forward in a swift and decisive attack. They may not hold for long against cavalry, especially in open terrain, so should be protected by spearmen or riders.

Avari Bows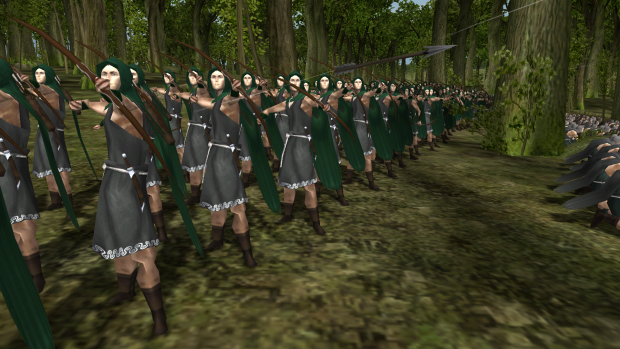 Patient stalkers of game – or of trespassers to their native forests – Avari Bows are as deadly in open battle as they are in ambush. While protected from a charging enemy, these Elven archers can bring their accuracy to bear at great range, devastating foes who must force their way through a hail of arrows. Their long thrusting spears make them stubborn opponents in melee despite their lack of armour, and make them dangerous targets for enemy riders.


Tier 3

Avari Warriors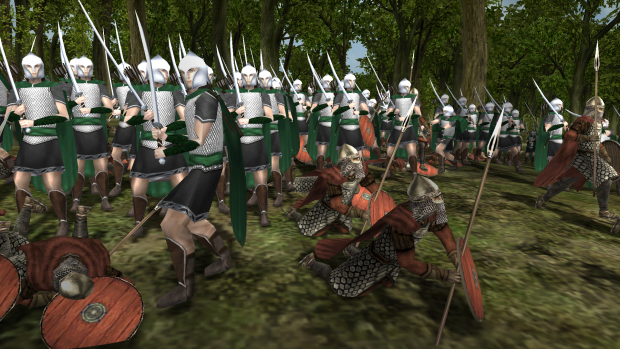 Though the Avari are typically poor in metal, their best warriors are clad in scale and helmets to protect them in battle – for, in addition to being fine archers, these companies bear long, curved blades to wield in melee. Skilled like all of their people in stealth, Avari Warriors are fearsome when spearheading a charge, but too reckless an attack can leave them cut off from their host and vulnerable. They are most effective on the flanks or at the rear of a battle-line, supported by other troops.

Avari Riders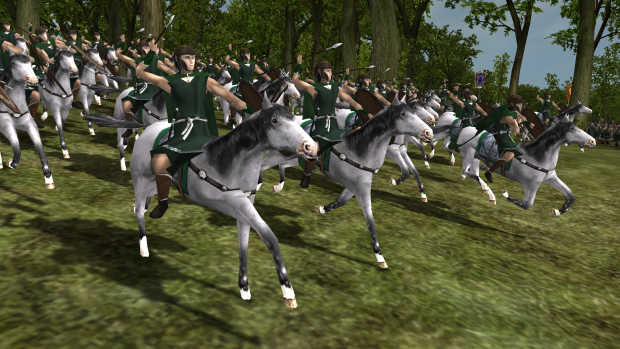 The Avari have no tradition of heavy cavalry, but they are naturally gifted with horses, and between their forested territories in the East there are many broad plains where the beasts may be found wild. Herded and carefully tended by the Elves, they make quick and sensitive mounts, bearing their riders swiftly through plain and copse to hunt or scout for their people. In battle, the Avari Riders are adept light cavalry, throwing keen javelins before closing in to fight with axes. Their shields and leather helmets offer some protection, but when entering the fray the riders must choose their moment carefully, as they are not otherwise armed.

Avari Heroes (Bodyguard Unit)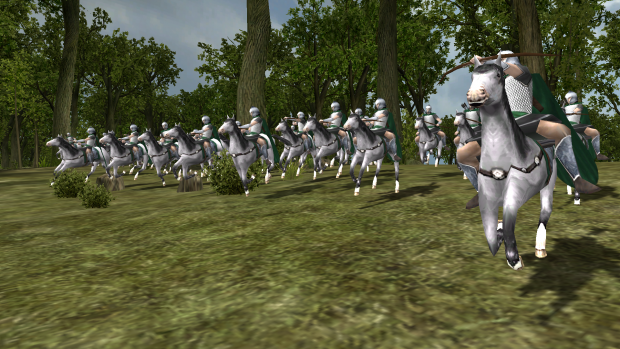 The companions of an Avari lord are the best-armed warriors in his host. Wearing helms and scale armour, they display the finest gear to be found among a people who have had many lifetimes of Men to perfect their craft. Avari Heroes are daring and disciplined riders, who can thunder into range, shoot down their foe, and wheel away to evade pursuit – or charge into the enemy with their long, scything blades. Versatile and deadly warriors, they are utterly loyal to their lord.


Special Units

Avari Wandering Company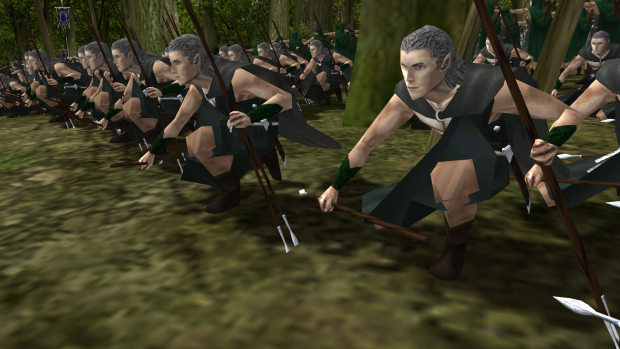 These wary Elves live much like their forebears have since the Elder Days – moving from place to place, avoiding other folk, and dwelling for the most part in the wilderness. Skilled hunters, they are expert with the spear, whether thrown or thrust, but going only lightly armed they prefer to avoid open battle. An Elven chieftain may find such companies useful, as their woodcraft and hardiness allows them to spring deadly ambushes or strike suddenly at an enemy's unprotected flank.


Notes: A small roster, but packing a lot of punch and very fun to play - proper glass cannon stuff! They'll also have less restricted recruitment areas than the western elven factions.


Disclaimer: This is not an exhaustive list! All rosters are a work in progress and unit list may not be complete or finalized; appearance and description may change in the final release. Special units previewed do not represent the entirety of factional mercenary and AOR units available to any given faction.