The response to last week's advertisement for a pixel artist was overwhelming. I did expect a fair number of random artists from art forums just forwarding their portfolio, and certainly got that, but there were also a good number of applicants genuinely interested in the project itself.
In total the ad had nearly 1,000 unique views, attracting 34 applicants. Of those, 17 provided concepts for a Cogmind tileset, which I'm sharing with you today (anonymously!). Of those who didn't provide concepts, 5 are qualified candidates to consider for hiring if we don't find any initial concepts that are already on their way to being a good fit for the game.
But first, let's look at the concepts. Naturally these grayscale samples will feel somewhat different once colored in game, but the results will still be monochrome, painted with a fully-saturated color of varying brightness to reflect the tile's shading (if any).
The list--order is random, click to open the image and make sure to zoom it to 100% size for details:

Cogmind tileset concept submissions. (Click to open full size for details.)
I'm not making my own criteria or critiques public yet, hoping to instead hear what you all have to say. Some of you (those not using ASCII) will be the ones to actually use these, so I want your input. Have opinions? Favorites? Suggestions or preferences regarding style? Which of the above samples would you like to see expanded to become the game's tileset and, more importantly, why? Leave a comment here or at any of the many other locations this post is mirrored.
Next Steps
If enough of you concur that some of these concepts are something you'd like to see in the game, the selection process will continue as I contact those artists to work out the details, as well as compare candidates based on other criteria, like experience and, um... cost ;)
Bonus Art
While we were only interested in concepts for tilesets, some applicants provided samples of other kinds of art, some of it pretty cool... This wasn't required, but let's not let those efforts go to waste :D.
These are all different takes on my ASCII art for Cogmind:

Chainsword and Quantum Rifle partially pixelized by Linus Chan.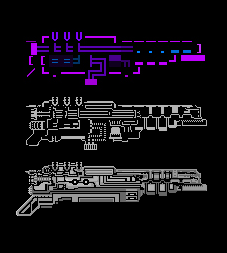 Anti-matter Cannon illustrated by
Gustavo Santos
.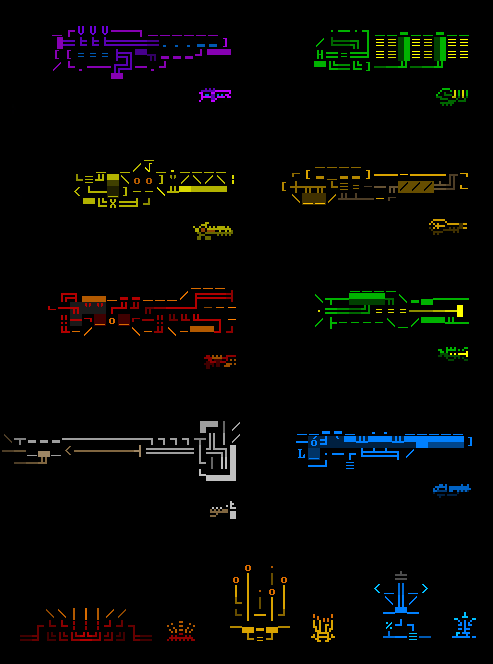 Mini-pixelized weapons and components by Gurkan Te (
ShroomArts
).