Backer Update #9 - 3 Days to Go! 84% Funded. We're Getting Close!

Hello and welcome, one and all!
We've entered the last three days of funding, and things are ramping up as they often do with Kickstarters. We're seeing the line on the graph starting to rise very steeply, which is quite lovely. We have around 80 hours of funding left in total.
24% in a day!
We just wanted to make a quick update to say thank you to all our loyal backers. The past few days have been a little tough as we were lagging behind, but with the help of our awesome community, we have raised our funding total by 24% in just the last day!
Two large sums from good friends of ours, Krillbite Studio and Snow Castle, appeared earlier, plus a very generous amount from a private backer, which gave us a great boost, so thanks a lot, guys!
If you didn't see their comments on the project here is the one from Snow Castle:
"A year ago we were in the very same situation that Antagonist is in now. We know the inhuman stress they are feeling, and how much it means to the team morale. We are no longer so pressed financially, so we really, really like to see them succeed."
And Krillbite Studio had this to say:
"We just backed this by 3k because we truly believe in these very bearded, very talented people. We want to make sure Through the Woods gets the chance to do well, as we believe it will do based on, among other things, our own Kickstarter game. We're fans of bringing something new to the game medium, and we think Through the Woods with it's folk tale inspiration will absolutely do this! Let's get these people to their goal! :D"
So, very heartwarming tales all around! We can do this together! Now we just need to push the final 16%! Keep sharing guys, you have been excellent this past day especially!
To put a smile on your little backer faces, here's a snap of Stian and Torstein pretending to be super heroes.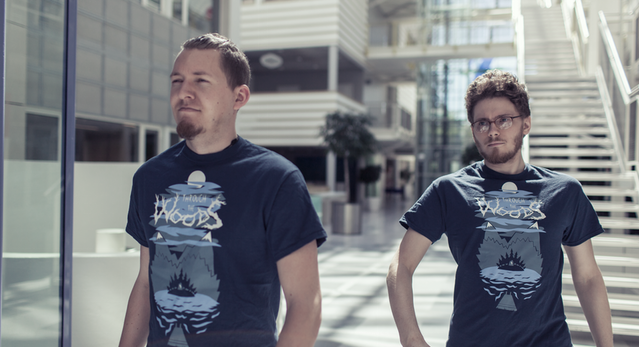 Ok, that's it from us for today. I'm sure there will be another fun backer update to look forwards to tomorrow.

Thank you all again for joining us. See you tomorrow around the campfire!
Ole, Dan, Stian, Ole Erik, Torje, Torstein and Anders