Greetings, Noble! Ready to Play? How do you like the game so far?

We have many people who sign up on our website! Thank you & Welcome!
Sharing with you what is new on Throne of Lies Game: Many people are asking if there is another way to get Throne of Lies Game Keys for Alpha besides waiting on giveaway events? We recently make it possible~
Now you can purchase keys on the Throne of Lies Website for $9.99 for Life! This allows you to play the game from Alpha, beta & when it's released. No extra hidden fees!
Simply go to ThroneOfLies.com and click the "buy" button at top!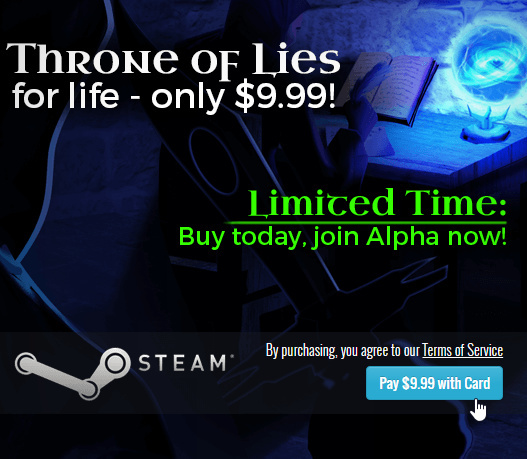 Please note that the game is still in Alpha so there will be bugs. lol~
You may join our Discord to match up faster with other people online!

Help us Sharpen the Game!!
We appreciate your support and looking forward for your suggestions!
You may post your bugs report on our Discord or Forum!
We will start accepting PayPal as well! However, for PayPal, you must purchase at least 2 keys and it's a manual process.
To buy keys via PayPal:
1. Go here Paypal.com
2. Copy + paste this in the optional message: "I agree to the Terms of Service (EULA) at Throneoflies.com"
3. Send $19.98 USD to "elsa@imperium42.com" per set of 2 keys.
4. We'll deliver the key ASAP via Email
Throne of Lies - All Roles, Abilities And Factions Explained by PipeTron:
Thank you for supporting us! Enjoy the game! :)