First, let's talk a little about the environment for the game. The game is a succession of challenging mini-game who take place in a cold laboratory room.Taking this place for my game is a good choice because short deadline means small time for making the art assets and having an empty cold room is a good way to :
1. don't lose too much time
2. be coherent with my background and
3. giving an ambiance to the game.
The player is in the room and the scientists communicate with him with a small old tv by giving appreciation and orders.in the center of the room a chair waiting for the player to sit down ( only here for the start menu, because you don't actually control a character).So i have only 4 elements for my environment : 1. The room itself 2. The small tv3. a two-way mirror4. a chair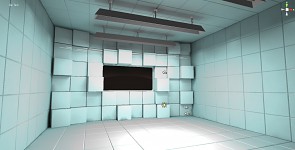 The room is done, the mirror too, they need some polish on the texture ( too bright at the moment and some details) The TV is modeled but not textured and the chair isn't done yet.
The TV is modeled but not textured and the chair isn't done yet.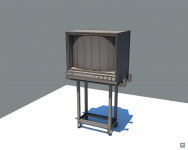 Finishing the TV, making the cameras and testing it will be much longer because nothing is created for it and it's not difficult to do but every hour spent on design will results in less mini games and less time to make them fun.Today i'll adding the leaderboard to the game, i hope to don't have problem with that because it's the first time i do it. the TV problem will be result tomorrow, i want to keep the small tv in the game, but i think if i can, the tv will only be here as a props and the mirror will do the work.
more infos and new screen later( ingame screen ).dray.