Behind the scenes, Ghroth has been tweaking the sounds... so on the media page you might find an update or two. The napalm grenade page now has a sound for you to enjoy, too!
You Know The Demoman; Now Meet The Scout as both rebo and dr_nick are still working hard on class characters. As proof, served with a light bearnaise sauce, I offer you the Scout model and colored concept. The Scout character is energetic, nimble, and not afraid to die.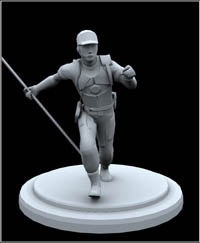 As you may have read in the developer's journals, Defrag has put aside his lambada lessons to work on the Fortress Forever version of a well known map called Bases. Be sure to to storm the enemy flagroom and steal their flag, or alternatively detonate the PC for some consolation points. To all the interested ladies out there: never forget that Defrag can make levels and dance--an invaluable combination.