On May 6th we had given our community the task to design an original and interesting ending for the upcoming game The Witcher 2: Assassins of Kings. The rules were simple, create an image featuring Geralt and/or Triss and integrate them into a famous moment in history. We received an outstanding 421 entries for the comp over a span of 10 days, and considering the prize who can blame them.
For the winner of this competition we have one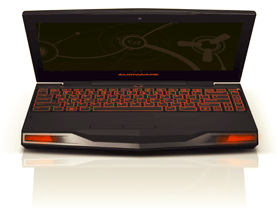 kick-ass Alienware M11x laptop to give away (prize tab for full details). This laptop is nothing short of a beast and will allow you to dominate The Witcher 2 all day long without breaking a sweat.
Quick specs are Intel® Core™ i7 2617M 1.5GHz(2.6GHz w/Turbo Boost, 4MB Cache) with 2GB DDR3 NVIDIA® GeForce® GT 540M, 6GB DDR3 at 1333MHz and 750GB 7200RPM SATA 3Gb/s.
While there can only be one winner a lot of the entries came very close to taking top spot, so lets count down ModDB and CD Projekt RED's favorite entries!
Runners Up
Submitted by koppachino, Brotigan, moci and Radu_IceMan
3rd Place
Witcher's Dive by ChrissRaven
2nd Place
Geralt Bit my finger by Hereweald
Winner
Geralt the Hacker by Pseudo_Dave
Thank you to everyone who participated, the comp was an absolute blast to judge. Make sure you check out the rest of the entries over at the submission page. Congratulations to the winners enjoy your spoils of war!