Snow related overhaul was recently accomplished, and now we've also done with overhauling the ice and all there is to it.
Realistic modelling of ice and freezing of lakes
Lakes start to freeze when the weather gets cold enough. This doesn't happen the same time every year, and the ice also doesn't grow equally thick every year. And when the lakes freeze, they now freeze gradually. The ice cover first starts to build up at shallow water and proceeds towards deeper sections from there on. How fast the ice cover increases or decreases depends solely on the weather. Ice thickness can also vary at different sections of the lake. It's not anymore safe to walk on the ice as soon as there's ice cover on the lake. Thin ice can break under any load it can't hold - be it your character, NPCs, animals or items.
Lakes freeze gradually, from shallow to deeper sections: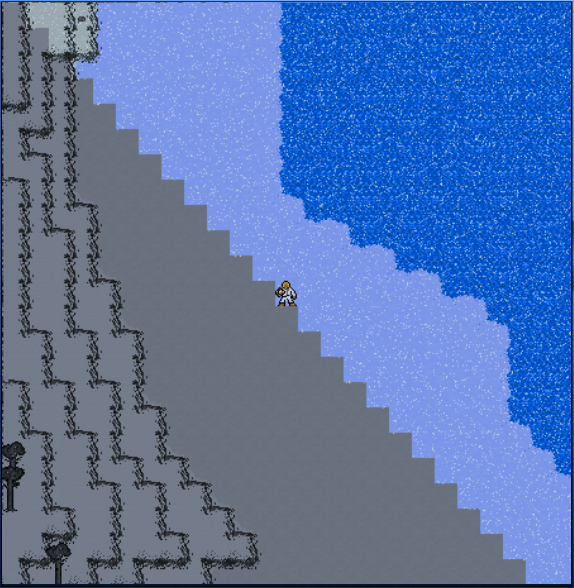 Fully zoomed out view of this narrow lake shows how the deepest part is still open water when
the both shores are already covered with ice: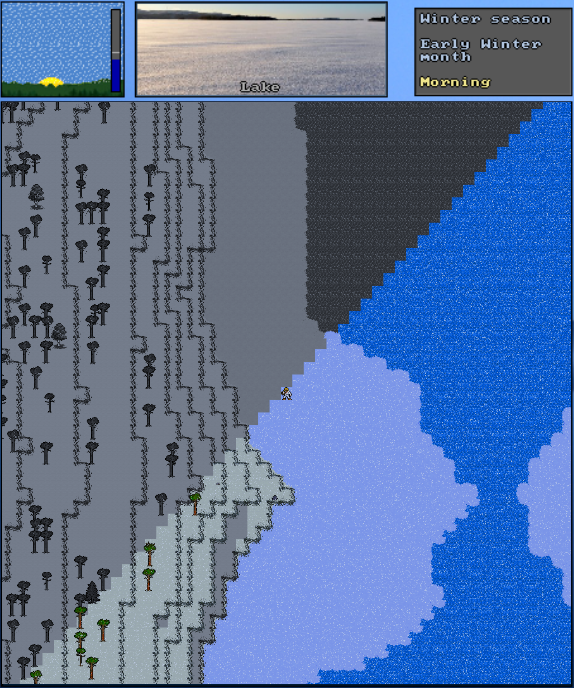 Improved mechanics for making a hole in the ice
- Time required to make a hole in the ice has been adjusted and now also depends on the ice thickness and the tool used. It's around 25 minute job (game-time) to make a hole into half a meter thick ice with an axe. An inch thick ice can be broken in a minute or so. If the ice is very thin you can also break it without any tools.
- When making a hole in the ice the best available tool is automatically selected. In addition to axes, spears and swords also stones and knives can be now used for breaking ice - even though they are quite unhandy for the job. The order of ice breaking tools from best to worst goes as: axe, spear, sword, knife, stone.
- Holes in the ice will freeze back gradually and remain recognizable for a few days. Eventually the frozen holes will look like the regular ice cover, but may be weaker than the surrounding ice for some time. As holes in the ice won't freeze completely overnight it's now easier to maintain your wintertime water supply by breaking the same slightly frozen hole on a regular basis with only a little effort.
A screenshot to demonstrate gradual freezing of holes in the ice. Holes at the bottom have been
made few days ago. The upper left hole was made few hours ago, it's already frozen a bit.
The upper right hole was made few minutes ago.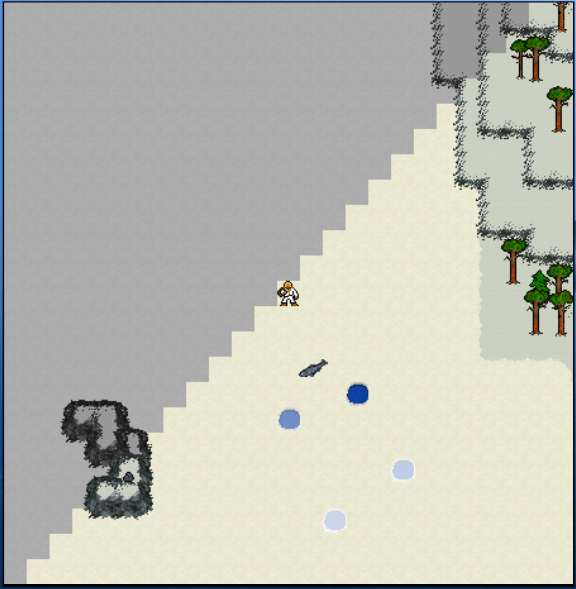 Falling through the ice
There's a confirmation to step on the ice if the character doubts the ice will hold. This applies to thin ice which characters can easily recognize by stomping on it to see if it cracks. Notice that even if there are no doubts and confirmations the ice still isn't necessarily safe to walk on.
- If you happen to fall through the ice climbing and pulling yourself back onto the ice is not easy and depends on your climbing skill, agility and strength. All of these factors are tested on each turn you try to move from the water onto the ice. Wielding any sharp pointy weapon such as knife, sword, spear or even an arrow will improve your chances to pull yourself out of the water. Swimming skill is also important as it determines for how long and how easily you can keep struggling in the water.
- If you're unable to get out of the water after 5-10 minutes, you're almost certainly not going to get out. Your body temperature starts to drop as soon as you fall in the freezing water, and when hypothermia sets in you will eventually lose consciousness and drown. Depending on your swimming and climbing skills you will also build up certain amount fatigue on every turn you spend struggling in the water, and the more fatigued you get the lower your chances to pull yourself out become.
This character is in trouble, and likely to drown. He wields a spear, but is lacking the strength to struggle in the freezing water much longer: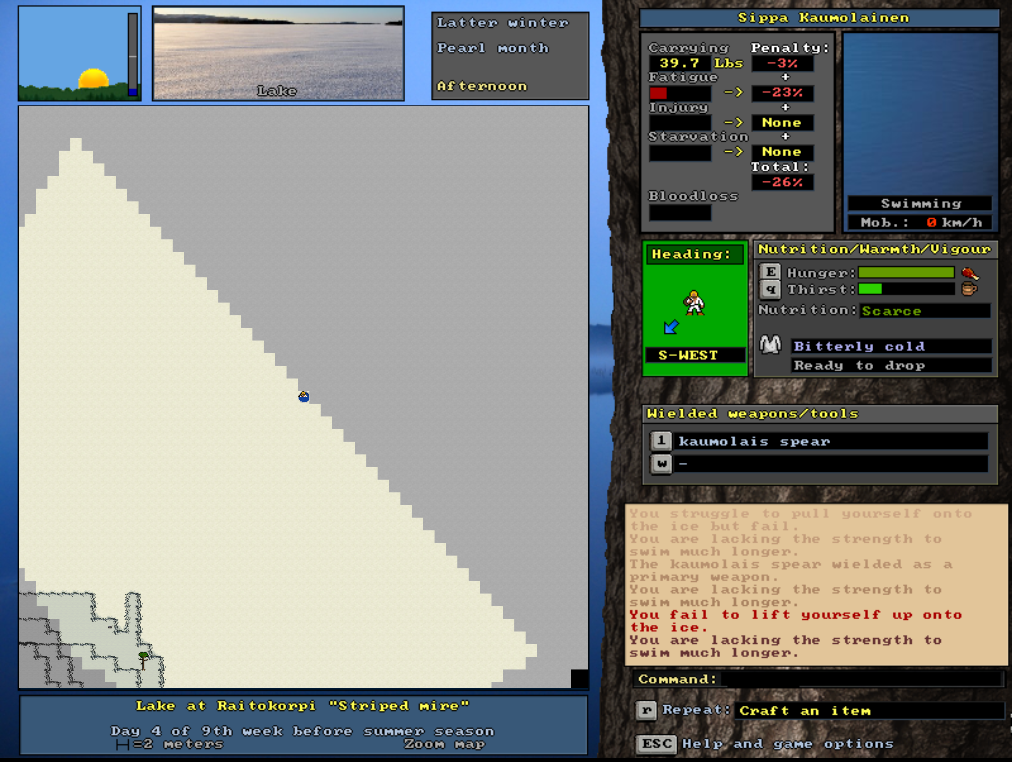 Not that there isn't winter in the game already - in addition to three other seasons - but still, with the next update, the winter is truly coming...
---
UrW is being developed with your support.This could be a good day to utilize your squirrel hides and
Donate to support UnRel World development
Thank you!
UnReal World is distributed free of charge and survives solely on donations. As a reward and to thank you
in return, our characteristic video greetingscan be downloaded after placing a donation of any sum.
---
Stay tuned for more -- and feel welcome to join at Official Unreal World forums for good talks and frequent tidbits about ongoing development.