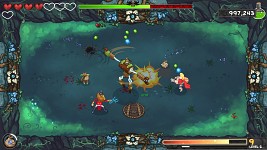 The Weaponographist Has Arrived
The Weaponographist is out now for PC and Mac, on Steam and other major online retailers. Developer Puuba and publisher Mastertronic announced the release of the game for $9.99 with a new trailer.
The Weaponographist is a top-down beat 'em up action RPG dipped in Rogue sauce, composed of randomly generated arena rooms filled with demons that the player must defeat, and weapons the player must continually replace, in order to progress. Its protagonist, Doug McGrave, has been cursed by a witch to force him to save the town of Hellside from a demon infestation. Due to the curse, if Doug isn't slaying demons, he's getting weaker; if he uses any one weapon too many times, it will break, and he will have to pick up a new one.