"You may ask yourself,
Who is this wanderer?
And I'm sorry but
You won't find that out, for a long, long time.
But worry not, for
Some questions should not be asked lightly."
-- Some Unknown Narrator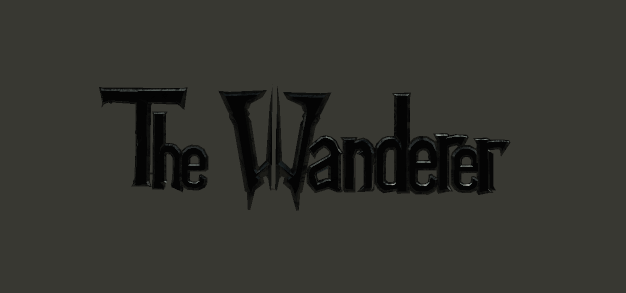 No matter who he is, he has arrived.
Evening folks! We are an indie studio (1 Artist/Designer, 2 Programmers) and have been working since forever on this bold project called The Wanderer: Bloodthirst , a First Person RPG with Puzzle and Horror Elements, coming soon , developed with Unreal Engine 4.
We finally have a lot of content and starting to have gameplay, so we're very excited to begin this journey, and hopefully reach places far beyond anyone's imagination.
About
This intro really sums it up well: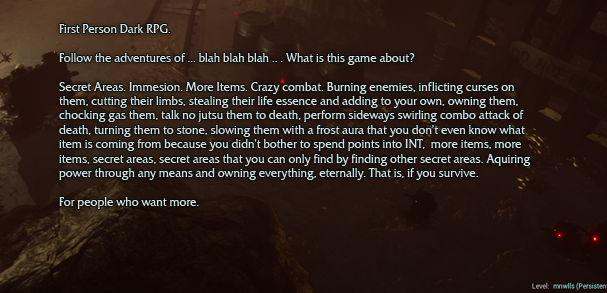 Gameplay wise, it most closely resembles games like the old Gothic's, or some other forgotten gem: Arx Fatalis. Heavily inspired by them. Also others such as: Spellforce, Diablo, Dungeon Siege, The Longest Journey. And a lot more.
What can you do?
It will depend on the amount of support and following we get, however some things greatly stand out:
-Kill creatures and bad guys in all sorts of possible ways.
-Sneaking system being developed,
-Personalized attacks in the workings, special power attacks, and that sort of thing,
-Dismembering( coming up),
-A ton of loot , brute weapons, magical artifacts, all kinds of potions and random items that you can combine and use to further amplify your destructive potential,
-Fishing ( a whole fishing system, with a bunch of possible baits and fish types, and random possible loot , 100% will be developed)
-Professions such as Herbology, Mining, and Cooking (These 3 have been currently designed and hopefully will get to them.)
-A world waiting for you to discover it, full of horrors and dangers, but also fairies and precious gems and what not.
-Exploration greatly rewarded. The main idea is you either A) Go berserk brute fighting maniac mode, and just go around killing everything and moving through the main arc. B) Take the time to explore the world, improve your equipment, find who knows what items that can help you fend off attackers and have a slightly easier time going through the story. C) Everything in between these 2 ends of the spectrum.
-A lot more, and a ton more on top of that, if we get the support and followers.
Philosophy
"I'm gonna be honest. Besides playing Dota and finishing Arts University, I've pretty much spent my time developing this project, in the hopes of providing the gameplay I wished someone created for me.
I remember playing a lot of RPG's , and being so dissatisfied with the newer and newer titles, more and more commercial, and less and less about the art of it.
So I said, **** it, let me show you (the big guys) what a good game can be like.
So this is what I've been doing, for the past 3 years.
I've finally found the technical programmatical crafters I really needed to do this, which I am so grateful for, so finally here we are."
-- Andrew
Media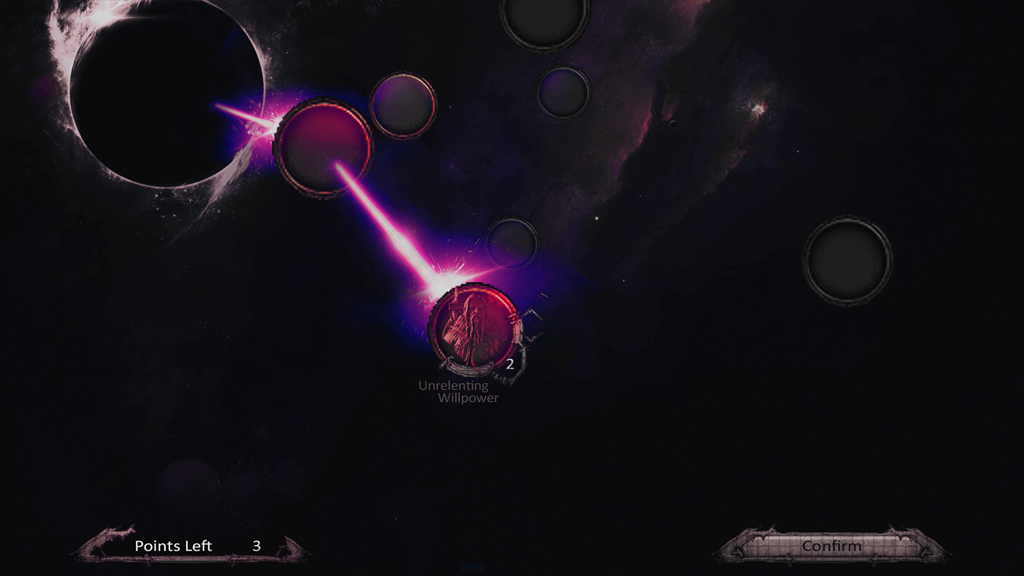 -Talents System Concept. A 3D scene which resembles your subconscious in which you move around, assigning points. Kinda like the passive skill forest in Path of Exile, only 3D.
-Character Window Design. The ball of light on the bottom is supposed to become an animated button which upon clicking will transport you (magically) to the above shown Talent Dimension Scene.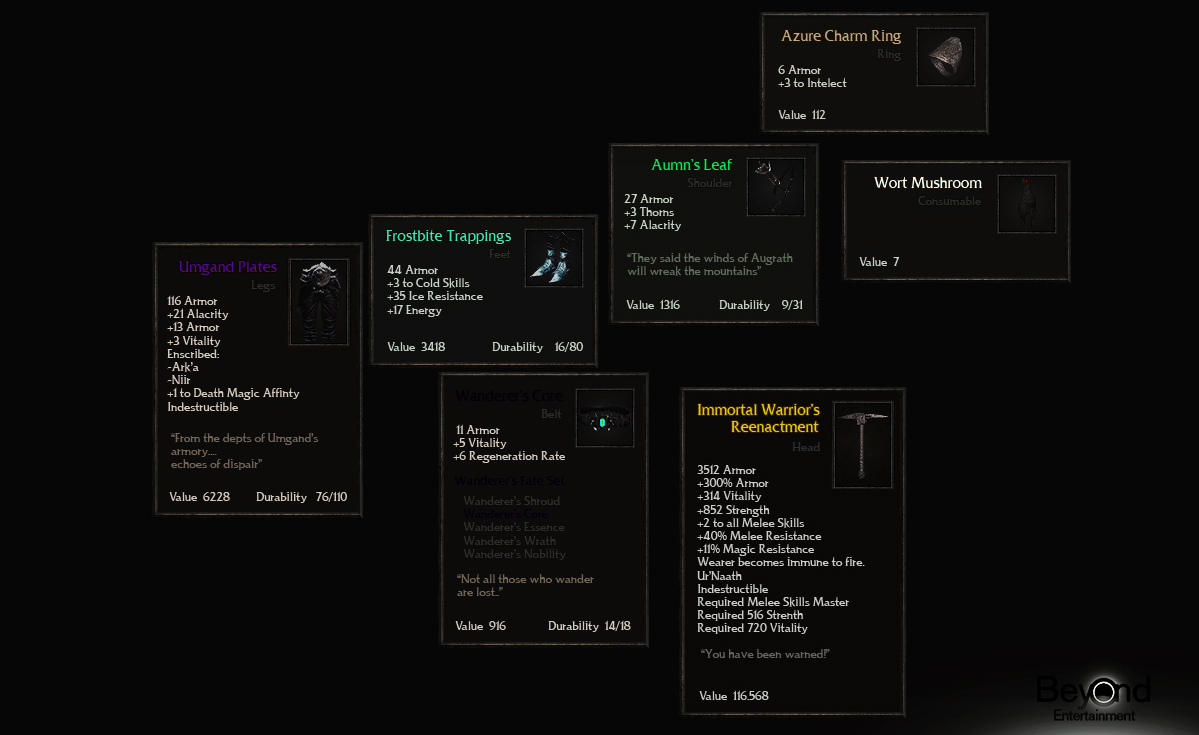 -Item Tool tips Design showcasing the style of all the different rarities of the items you will find through out the game.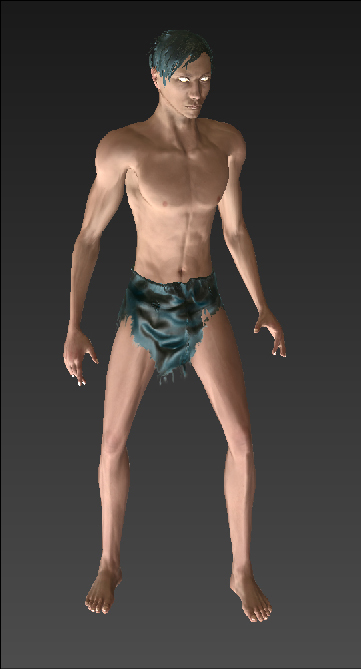 -Jared, the main protagonist of this chapter, and the player.
Summary
This might seem a little like its too much, or something like that, maybe not.
However it's all true, and it can happen. We need your support though. We're working day and night crafting towards what we asses to be the best entertainment we can provide, but we can't do it without you. The plan is to get a build , create a demo, make some videos, all towards a Kickstarter in a few months, and we need the follower base for that.
If you like the idea, you're in luck.
We promise to add new content twice a week.
Plan
-The Wanderer: Bloodthirst , aka Chapter One, which consists of:
-2-7 Hours of game-play, 4 main areas , each with its own themes and quests
-7 Main Quests, 4 Secondary Quests
-14 Unique Characters, 5 Unique Creatures
-Skills, Professions, Fishing, Cut-scenes


Now, this is the whole game, but the plan is to build a demo around one of these 4 Main Areas, that features the Combat System, the Inventory/Loot System, and some other random game-play stuff inside the map, and push for funding through Kickstarter , or something similar.
For more questions and info, feel free to contact us.
Peace!