Scene: a small, dark home office. A guilt-ridden internal monologue takes up the tattered fronds of our narrative...
PAUL: Hmm, I only just posted about the tutorial and we didn't have that many screenshots. How can I keep people's interest about the game up and get that lovely exciting "Watchers" number on the page to climb? God I wish we had a faster art pipeline. Well, we do have a new episode of Visiting the Village up this week, so I had better post that...
PAUL: That's not enough content, though! Everyone has a cocking podcast these days. Quick, think! The galactic irrelevance of this will surely cause the ModDB team to swoop down on you like some kind of hideous moderating griffyn, mocking your pitiful attempts at attention-grabbing with every nasal squawk that issues from their fearsomely curved beak.
To the screenshot machine!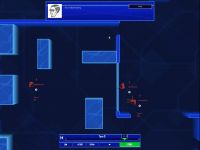 I got to play the tutorial properly yesterday - Ian has done a great job of teaching some of the harder gameplay concepts. I now have to go through and replace his ridiculous writing with sane writing, stealing all the good jokes and character ideas. This will be...challenging. Anyway, I get to postpone that for a while because soon it will be all hands on deck crunching on a beta. But, unfortunately, this will be an internal beta only as we have a LOT of polishing to do before we let you lot get your sweaty hands on it. Not that we don't love you, but trust me, you don't want to play parts of the game like it is now - you'll cry, promise.
Other things that have happened include a couple of interesting meetings set up for next week (can't talk about those), some progress on a new website (good news), and some progress on our project for Dancemidisamples.com. I'm having to deal with artists a lot at the moment and I want to shout out Rasmus (who did a lot of the art you're doing seeing from us at the moment) and Chem for implementing it, as well as new artist Val who is about to do something fantastically boring for us.
I didn't feel that was enough content for an update so here, ladies and gentlemen, is a fantastic BEHIND THE SCENES TOUR of the life of an indie game developer...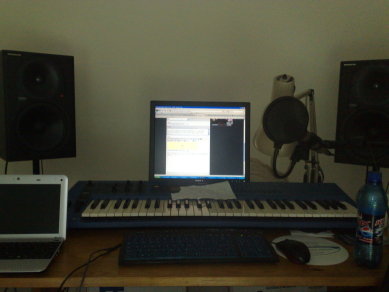 This is where I work a lot of the time: it is dingy as hell and I should probably put up something on that imposing blank wall in front of me. There is a tiny window that opens on to our garden and millions of spiders and small nattering things zoom in through it with great abandon every time I deign to allow some air in.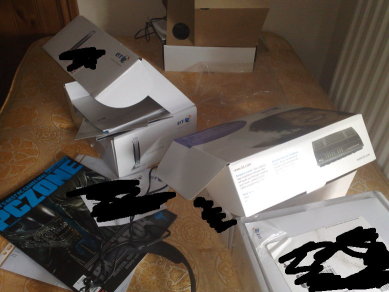 Recently I had a massive internet disaster and this resulted in the lovely BT delivering me THREE new routers. I blogged about it here, you probably, righfully, don't care.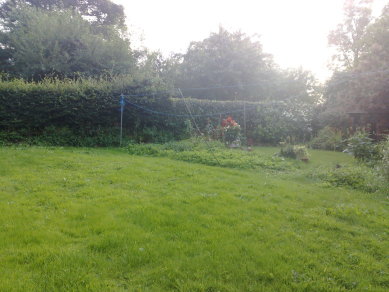 This is our garden on the left. The neighbours have this insane perfect garden which is all clipped and trimmed that you can see on the right, and ours is just this green furry beast. There is no fence. They must feel embittered. Ours is a liberated wilderness garden! It is FREE! And GREEN! I didn't ask for a garden so I absolutely refuse to do anything to it. Maybe one day I will trim the grass. Maybe. I hate gardening.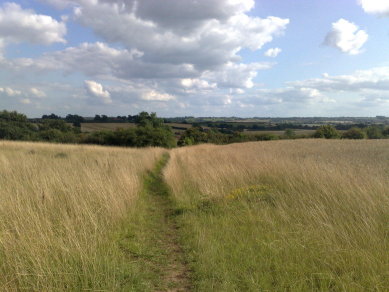 When I had no internet the other day, I went for a walk here. This is nicer than game PR / marketing / development. I should give that up and just walk around all day FOR MONEY. JOKING.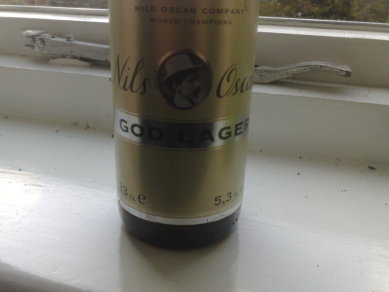 This says "God Lager". I came for the funny name, I stayed for the pleasing malty BODY. It was ok. I bought it from Waitrose.
I can tell that this is DEFINITELY going to be a popular post. If Dejobaan can interview their flipping PR interns, AND make a joke about wanking in their profile, I can certainly post about a funny-named drink. I HOPE NOW YOU WANT TO BE AN INDIE GAME DEVELOPER TOO. I'm off to play in the village tennis club now, and I am not joking.