Mass Effect : Dawn of the Reapers
Ok guys, here is what is going on. With the release of Mass Effect 3 I have been working almost none stop in order to bring you the very best in accuracy. A lot of models have been updated, redone or just scrapped. This is to provide only the most accurate material for you guys to use once this mod is released. Also with said changes come the retirement of my old Alliance models, but it is not the end for my work. It has been moved to the new faction, Cerberus. You guys are either cheering or scratching you head going "Why Cerberus." Here is why, Because it gives you the player a chance to play as a terrorist organization, that is not only against the council but also the reapers. As one person put it, its no longer "Black and White."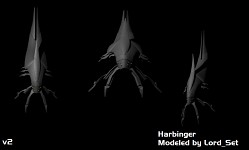 Assuming Control of this Mod
Model remakes/redo's
With the massive amount of art both fan made and conceptual being released with Mass Effect 3 I'm doing my best to give you guys the best I can. Harbinger is the latest update. A fan posted earlier today a deviantart page in which someone had perspective views of the most of the models from ME2 & 3 giving me a new view on now outdated models. Into the future there will be more remakes. Simply because and model can never be to good.
Cerberus
Probably the best idea i have had in a long time but after playing ME3 I had a strange desire to see things from the Cerberus perspective. With the release of Rebellion their tech tree will get a lot better due to choices regarding research branches not possible under current diplomacy tech tree limitations. Also they give you chance to play a human only terrorist group not under rule of the council which allows for a whole sort of good tech bonuses. AI research, Nukes, and a whole sort of badness.
Thats all for now,
Set