This was first posted on 12th March 2015 - ORIGINAL ARTICLE: Arrogantpixel.com
Download the most stable version of Doris here: Arrogantpixel.com
SIGN UP : Tinyurl.com
FACEBOOK : Facebook.com
WEBSITE : Arrogantpixel.com
TWITTER : Twitter.com
---
As I'm writing this, we are in the middle of an asset jam. The last push for sound and essential art assets. Our aim is to have a playable alpha at the end of this so that we can get into testing phase as soon as possible. We are fortunate enough to have very generous friends that are giving up their free time to help us complete this project too.
Earlier today, we visited some family and friends to show them the latest build of the Tale of Doris and the Dragon. Ben had been working hard on putting the pieces of the game together since the engine programming was nearly complete. They actually seemed to understand how to solve the puzzles! It looked like they were really getting into the story too! It's starting to make us more confident in our product, I think.
Now that we've put the musical sound track in, the production quality has just multiplied by a hundredfold. It feels like we've created a sound world that completely matches the landscape. Assad reckons the game is really trippy with the music - but I'll leave that to you to decide when you play it!Much of the evening has been spent ironing out some of the sound effects and we've been doing ridiculous things like recording under a baby pink blanket to deaden the sound. We have pictures.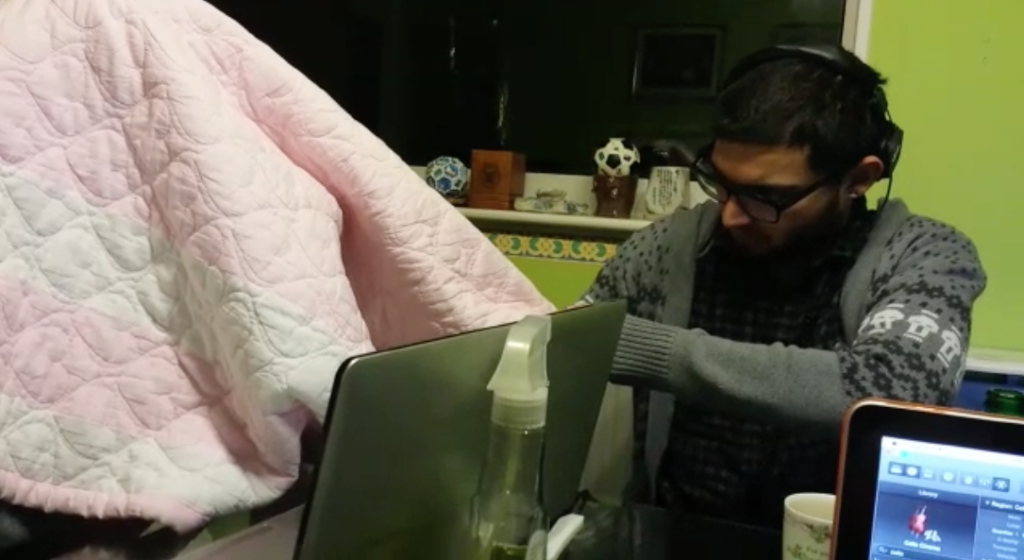 Pay no attention to the man under the blanket...
Myself and Ben have been spending most of the week sorting out the bare bones of the story of Doris - Episodes 2 and 3 since much of the 1st game is foreshadowing. I'm still happy with the story, though, much of it will probably evolve into something else later. It is still good that we have managed to stick pretty much to the original idea from the 1st game. It will definitely feel like we're building up to something.I'm really hoping that the voice acting will be good enough for the quality of game that we are trying to produce with The Tale of Doris and the Dragon.
Our connections in music have secured us a fantastic studio at "mates rates" so I'm excited that we'll be able to get amazing quality recordings out of the session. Once we release the game, I would personally love to get voice acting in place for Episodes 2 and 3. Since we are releasing Episode 1 for free, we probably won't have the funds to get into the studio with voice actors.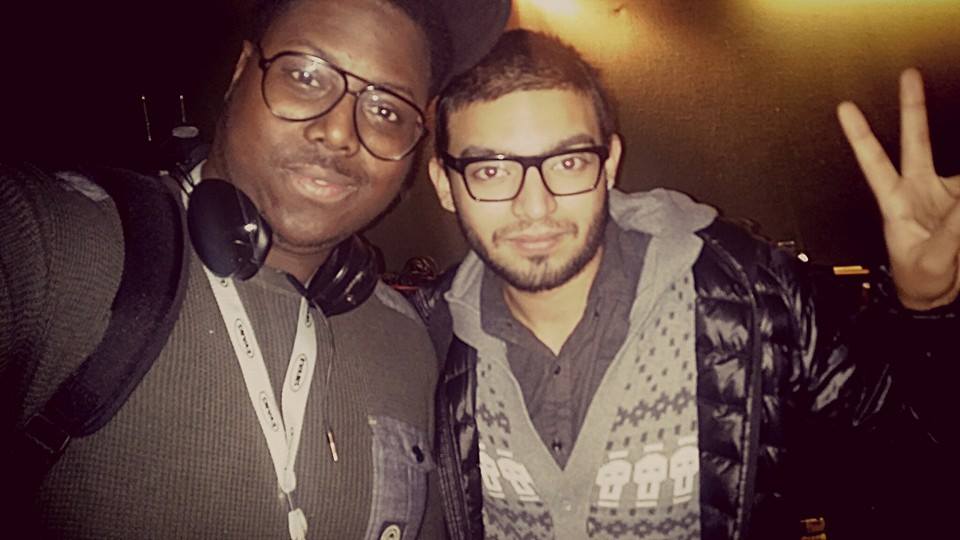 Check out these handsome fellas - 1st pre-production rehearsal selfie!
On a side note - Assad has been busy in the studio this week with a fantastic drummer and colleague of ours in a separate, but not entirely unrelated venture. Watch this space for more news on Facebook about his antics over the coming months. Movements are being made and plans are being hatched as we speak.
Anyway, it's quite late at night / morning. We're drinking chai tea and still working away. Ben is tapping constantly; forever chipping away at the heinous amount of game play programming that is still to be completed. Assad is processing all the foley audio content and I'm composing some of the soundtrack.I'm just glad the bulk of the work is behind us now.
Much of the game is already built, the puzzle elements are part of the dialogue writing process anyway so much of the work was done weeks ago using an ingenious method that Ben created for porting complicated non linear dialogue. It would have been a nightmare to program it in manually.
We brought in one of our friends, Alex, an incredible artist that we've known for a very long time to help us with a few of the scenes in the game when Ben was overwhelmed with art assets to complete. We loved his work so much that we plan on keeping him as part a big part of the art team for the rest of the trilogy.I'd say that we are on track to releasing episode 1 as planned in March 2015, minus the voice acting.
We will be offering the first episode free of charge, in the hope that you guys like it enough to check out episodes 2 and 3. As production of episode 1 is coming to a close, our sights are already set for the planning of the next 2 episodes. Lots of discussions have already been had, we are excited to keep working on this world that we have created.
At this stage, 90% of the animation has been done. The puzzles are being programmed in. The music, foley and sound effects have been completed. The title screen and introduction is yet to be done and the script needs a final touch up. I'm confident that you'll like this game - we are all in love with it.I guess nothing is more intriguing than a story involving an elderly lady and customer support, admin assistant dragons. Even our bank manager was gushing when we told him that we were creating a graphic adventure!
Looks like point and click nerds are hidden in unlikely places too!If you want to be considered for the beta testing phase, feel free to sign up early!
---
EDIT (18/04/2015)
The game is now released on Newgrounds. Check it out now: Newgrounds.com