CAMPAIGN SWITCHER
Select the campaign and click on "Play Now"! With this new tool we can avoid the M2TW engine limitations and create new culture setups for each campaign!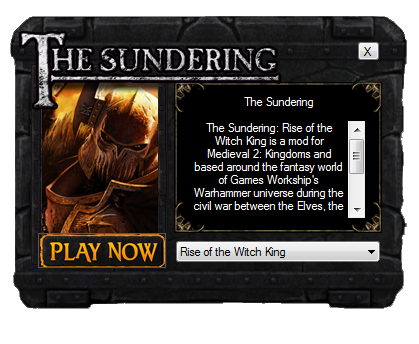 NEW FACTIONS
We have developed ten new factions in addition to the thirteen already present on the Rise of the Witch King campaign. The new factions will be available on custom battles and campaign map.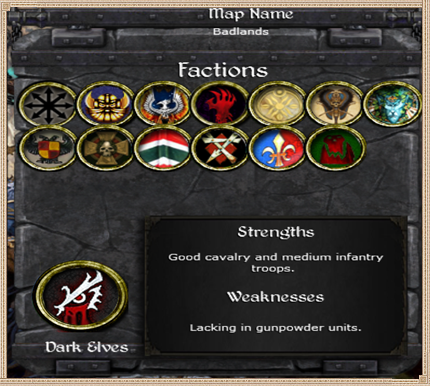 Araby
Beasts of Chaos
Bretonnia
Dark Elves
Dwarfs
Empire
Estalia
High Elves
Orcs and Goblins
Skaven
Tilea
Tomb Kings
Wood Elves
NEW UNITS
Sixty-two new units have been already added and working on the Struggle for the Old world campaign.
Soon there will be a lot more to fulfill the new factions.
NEW ANCILLARIES ICONS
Our new 2D Artist Kelembribor21has been working hardly to finish tons of new ancillaries, banners and loading screens for the new campaign.
Here you have a little preview of the icons: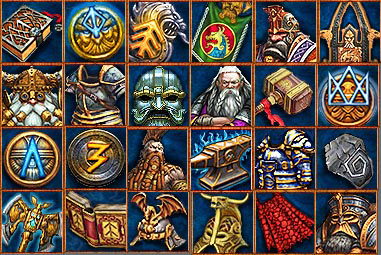 And here you can see some Skaven banners: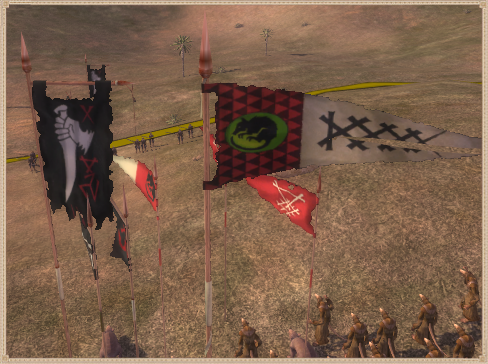 NEW BUILDING ICONS
And finally our newest member PaulH has demonstrated his skills with superb building icons for the Tomb Kings faction!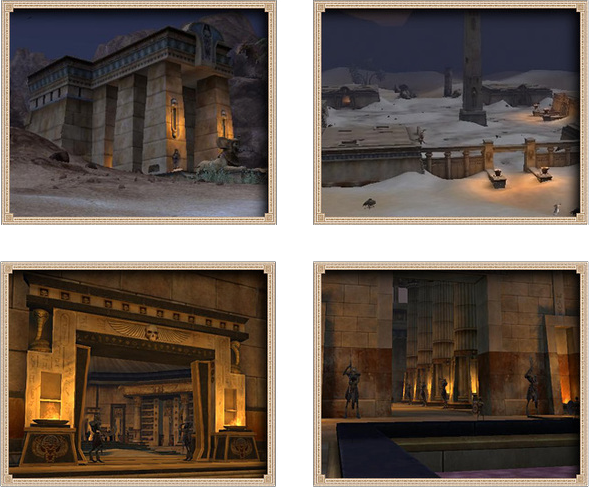 The new version not only offers a new campaign, but the Rise of the Witch King campaign has being improved aswell.
Some of the new models like Minotaurs, Dark Riders or Spites are now available on campaign.
We have also reworked the game balance, so you won't see full stacks of militia spearmen nor cultist.
The AI recruits now in a more mixed way and they are now far more agressive than the latest versions while the addition of cavalry units for the cultist makes them really dangerous.
SKINNED SETTLEMENTS
We have finished the skins for the High Elf settlements. This new feature brings tons of inmersion to the battles.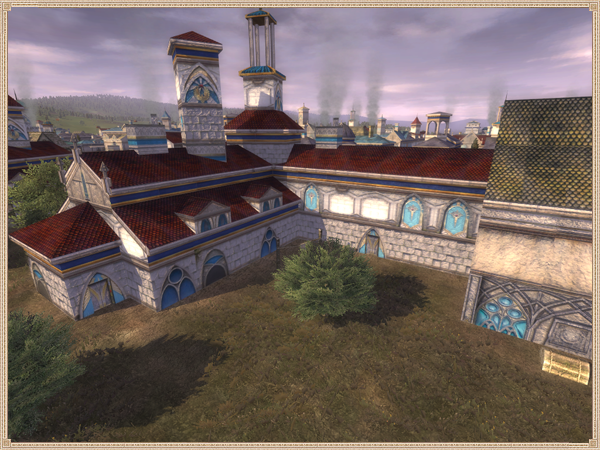 NEW SCRIPTS
The Rise of the Witch King campaign has been improved with some amazing scripts. Your allies will ask you for help when their capitals are objective of sacrifices. In addition when your capital is besiged, they will send you troops to defend it.
The more allies you have, the more troops you will recieve.
The reinforcer army is composed by units from all over Ulthuan, since is a Phoenix King army.
This gives to the player the chance to use some units from other realms. However the price of the help is pretty expensive, so the decission is not so easy.
NO CLONE WARS ANYMORE
The core units of all the factions have been reworked with up to nine head variations and different cloth color schemes. The Naggarothi spearmen have now even their own unit model

MORE STABLE
We keep working on increase the stability of the mod and we have fixed some annoying bugs, specially Alith Anar during sieges and the Shadow Warriors Hideout building and crashes when killing big beasts.