LordKronos wrote: "This is by far the most enjoyable mod i have ever played for Medieval 2 total war. It brings you right into the fighting while building your economy. Every single faction is unique in gameplay , focusing on different strenghts. Every single unit is beautifully made and the Epic Monsters like the Bloodthirsters are always a pleasure to watch. And the special characters in the mod can turn the tide of some campaign battles , giving the feeling that the books provided. I recommend this mod to every single person who enjoys Warhammer."
7ty7 wrote: "No problem at all, stable as hell also. Yea I'm enjoying it : ) Thanks."
jasperz0r wrote: "No problems installing it. Stable as it comes, I haven't seen this stability since third age total war mod."
This is what the testers say about the closed beta so we will switch it to open beta right now. Enjoy the mod!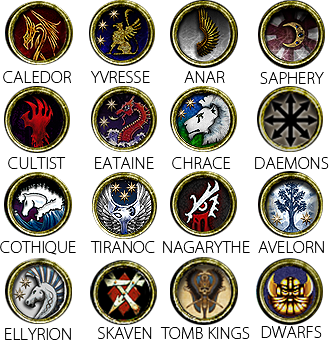 New factions: Dwarfs, Orcs&Goblins, Tomb Kings and Skaven added to custom battles.
New units: Some new units like Centigors, Bloodthirster or Dark Riders have been added to the original factions.
Princesses: Every faction starts now with one princess.
Reworked Building Icons: Now Nagarythe and The Cultist have their own building icons.
New Portraits: All the family members and agents have new portraits.
New User Interfaces: We keep improving the User Interfaces and game menus.
Allied Assistance Script: Your allies will ask you for help during the campaign.
Phoenix King Assistance Script: The Phoenix King will help you with reinforcements if your capital is besiged, but only if you are allied and eager to pay for them.
Improved Stability and Bug Fixes: Now the campaign is even more stable.
Improved Texts: Corrected grammatical errors and wrong translations.
Improved Unit Balance: Among other changes, archers are now more dangerous.
New morale system: The units will try to flee if they are outnumbered. Some units can inspire nearby troops. They take special importance in this version.
New Projectiles: The projectiles have been totally reworked.
Armour Upgrades: Some troops have now special models for armour upgrades.
Unit variations: Trying to avoid clone wars is a huge task, but we have worked a lot on this.
Unit Color Schemes: Some units like militias, spearman and archers have adopted specific color schemes to fit their factions.
More Aggressive AI: Now Nagarythe and The Cultist will be a lot more likely to attack.
Completely Skinned Settlements: Not only the walls! The whole settlements have been textured.
Mercenaries: Now you can recruit elite units from other kingdoms as mercenaries.
New sounds and musics: Your lions won't sound like elephants anymore!



Download all parts to the same folder
Run the TheSundering.exe and let the installer do the job

Make sure the path is correct (C:\Program Files (x86)\SEGA\Medieval II Total War\mods\The_Sundering) or wherever you have installed your game.

If you are using Steam be sure to follow this tutorial to get the mod to work.

Problem: When I launch the executable it runs vanilla M2TW
Solution: You have chosen an invalid installation path. Please, reinstall the mod and make sure it's on it's properly folder.
Problem: One of my files is corrupt. What part of the download is this file included?
Solution: Download again the mod. Check the sizes of the files, they should be the same as we stated in the download section.
Problem: Whenever I try and install the mod, a prompt requesting Disk 1.
Solution: Make sure the installation file's names are correct. They must be TheSundering_0_68.exe, TheSundering_0_68-1.bin, TheSundering_0_68-2.bin and TheSundering_0_68-3.bin. Perhaps some of them have been changed to TheSundering_0_68-1.bin(1) or other name.