You may have noticed our new URL. In moving to a new server we decided it was time to get a name for our project team. So we're now officially announcing the formation of Rockstorm Games!

New name, same great project. Dune: War of the Spice is a new fully original Real Time Strategy game loosely based on the Dune novels of Frank Herbert and following in the footsteps of such games as Emperor: Battle for Dune and Dune II: Building of a Dynasty. The game follows the exploits and conflict between the three Great Houses of the Atreides, Harkonnen and Ordos in their fierce battle for power and control of the Imperium, as well as a number of Subhouses that try to use the conflict to their own advantage.
We've been concentrating on the Harkonnen faction for the time being and hope to add new art for the others as our output increases, we're always on the look-out for talented 2D and 3D artists to contribute. For information on joining the project please click the Jobs Link to the left.
Units and Structures

The even the common Harkonnen Trooper is a formidable opponent. Their armor may make them slow-moving but the heavy maula pistol they carry can easily cut through hordes of enemy infantry.
Most of the foot soldiers fielded by the Harkonnen are are either slaves or conscripts, the brutal treatment which their masters can inflict on them for failure is what motivates them to risk their lives on the battlefield. In the absence of their Squad Leader, they cannot be relied upon not to flee from the conflict in order to escape their servitude.


The Harkonnen Dragon Tank is a heavily armored, slow unit that strikes fear into the heart of everyone who encounters it in battle. It can spray burning napalm over an almost 360 degree radius while traveling in any direction, meaning there is nowhere to hide if it gets close enough to strike.
They can be almost as dangerous to their owners, however. If one of these tanks is damaged or destroyed, the resultant explosion can splatter burning fuel over a wide area.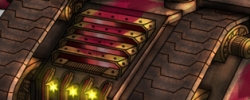 Essential to all operations on Arrakis is the Spice Harvester. These behemoths scrape, sift and separate the precious Spice Melange from the surface of the dunes, transporting it back to refineries where it is made ready for shipment off-world to fuel the ambitions of the noble Houses.
These massive machines are unarmed and are under constant threat from the giant Sandworms of Dune. A fleet of small spotter craft maintain a vigilant watch for wormsign and a Carryall must always be nearby to rescue the Harvester and move it to a safe location.
New Hires
We're also very pleased to announce the addition to two new people to the team.
Gary Fenn is joining us as a modeler and we've been very impressed with what he's been doing so far. Maybe you'll get to see some of it in the next update!
Kevin Jones is joining us as a concept artist. We look forward to seeing his creativity in action soon.


We hope you've enjoyed this sneak peek into the development of Dune: War of the Spice. You can follow us on Twitter, subscripe our RSS-feed and join our forums. We aim to post regular monthly updates as we have new work to show.