I wasn't happy with the old subway spawn so I've started remaking it. My reasons being that it couldn't accommodate a large number of Resistance players and I wasn't satisfied with it's look and feel.
When I start mapping, the first thing I try to get right is the lighting (including both light color and placement/use). If the lighting is wrong or "off," than the entire scene just doesn't work. I probably spend the most of my time on this one aspect. The reason being that it really doesn't matter how great your brushwork or prop placement is. If the lighting is wrong, than the entire scene is going to look wrong. However, if the brushwork isn't great but the scene has incredible lighting, than there's a good chance the scene could still "work."
For this particular scene, I've tried to make all environmental lighting (i.e. light sources not created by the Resistance) feel solemn and cold. Light sources created by the Resistance (i.e. fires, search lights, and even some of the glowsticks) were created to feel more alive and warm.
In other news, if you haven't visited our media section lately, here is some new stuff you may have not seen.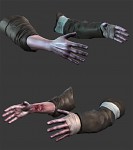 These are the new arms Jonny Ree is cooking up for us.
If you would like to keep up-to-date with The Rising, please add us to your watchlist. We update the media section weekly with new stuff and use fan feedback to improve the MOD.
-MattD