Today we traveled back from the future and brought back some old friends - Megabots! We listened to you guys have have brought them back in a bigger, better and ultimately more free-er way than before. You can now build MEGA-sized Robots up to 10,000 CPU and take them into Custom Games as well as Play vs AI mode. Megabots are free for all players, a premium membership is not required to enjoy them. In addition to the awesomeness that is Megabots, we've made a number of other improvements to Robocraft including some pretty big changes to searching the CRF. We've fixed a stack of bugs too.
NEW:
Megabots added to both Custom Games and Play vs AI modes*

FREE to all players
Highest CPU is now 10,000
Any Robot over 2,000 CPU is flagged as a Megabot on the edit bay floor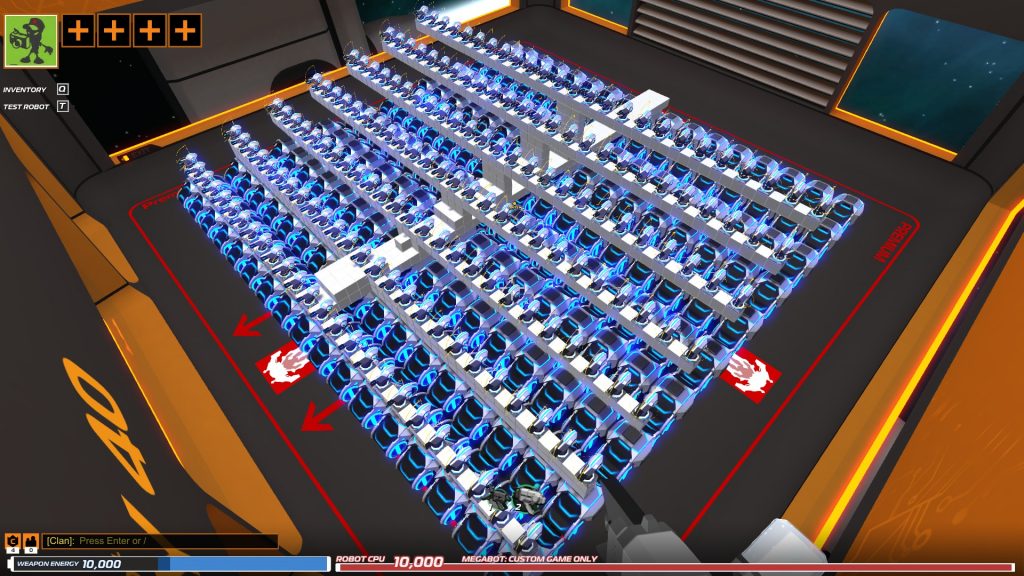 Megabots can only be played in Custom Games or Play vs AI modes
Weapon Energy doesn't change building beyond 2,000 CPU
Megabots in garage bay slots are highlighted with a red flag

Megabots can be uploaded and downloaded to/from the CRF
New CPU filter added to the CRF to accommodate Robots 2k - 10k CPU
New Custom Games sliders:

Health Multiplier - set down to 10% or up to 500% Health multiplier for all Robots in battle
Weapon Energy Multiplier - set down to 10% or up to 500% Weapon Energy multiplier for all Robots in battle

If any player in a Custom Game clicks on their player avatar on any screen, they can chose to leave the Custom Game
IMPROVEMENTS:
Improvements to the CRF with added search/sorting filters

Sort CRF results for specific parts or Robots with no movement or weapon parts
Sorting by cost
"Any weapon" now rejects robots with no cubes from "weapon" inventory category
"Any movement" now rejects robots with no cubes from "movement" inventory category
Helium removed from CRF movement filter
Thrusters added to the CRF movement filter
Removed the hover over info pane from the CRF

Play Screen updated to lock-out game modes if player has a Megabot selected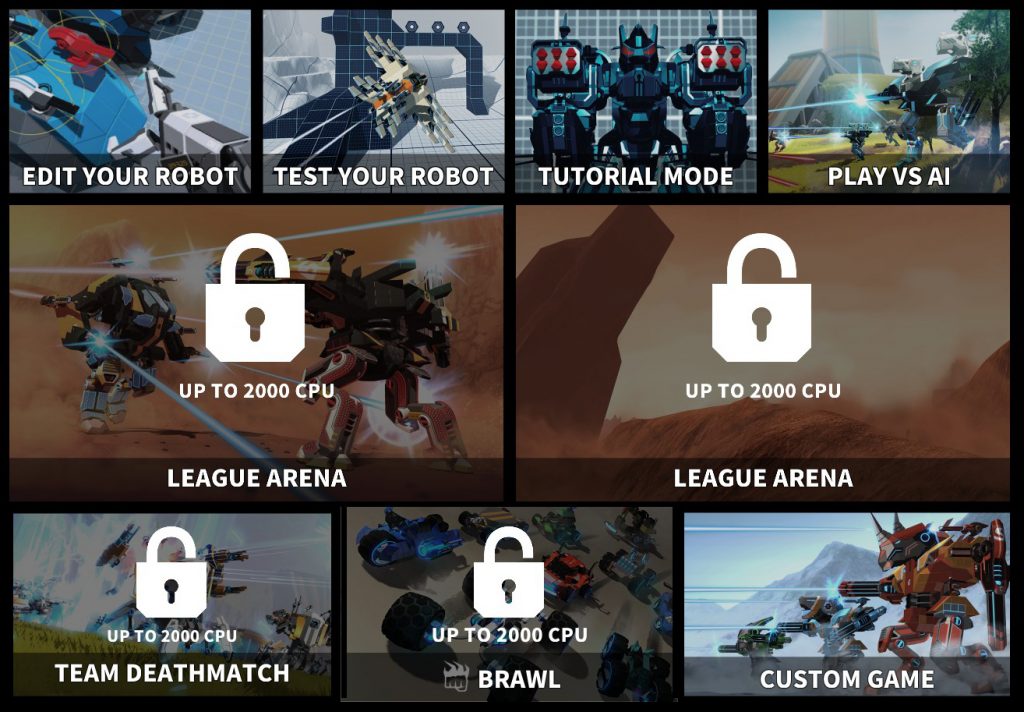 Improved Nano VFX and SFX as a direct result of player feedback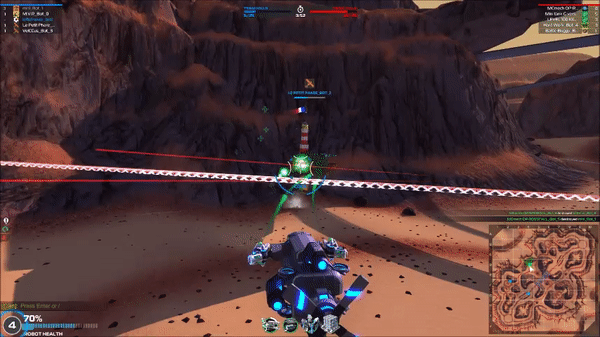 Improvements to team buff UI
Visual improvements to the drag-and-drop of players in Custom Games
Added missing SFX to some Custom Games actions/events
BALANCE CHANGES:
To make the Nano projectiles look more like a beam, we increased their fire rate to 20 shots per second and proportionally reduced their energy consumption and heal per hit. The overall heal per second should remain the same

BUG FIXES:
Fixed Pit Mode to work with Tharsis Rift Map
Fixed a visual bug that caused some module icons in the loadout to repeatedly flick between small and expanded circles when being used
Fixed a typo on the Hellion Crater name in the Custom Games map list
Reverted zero mass change for Helium Cube because it was causing unexpected issues
Fixed a bug which caused the party widget to appear on the crate screen when returning from a match
Fixed a bug which allowed a custom game leader to interact with the party widget while in the queue for battle
Fixed a bug which caused the Custom Games damage slider to be in the incorrect position to some players when they returned from a Custom Game
Fixed a bug which caused the wrong score to be displayed under player names in the Pit
Fixed a bug that caused the + button in Custom Games to sometimes fail when switching between Pit and another mode
Fixed a bug which caused the in-game camera to be off-centre when using the Blink module in certain situations
Fixed a bug which caused the active garage bay to zoom in/out when using the scroll wheel anywhere on the screen (including chat)
Changes to Custom Games invalid invites to ensure consistency with party invites
Fixed a bug which caused the mouse icon to appear as a hand when in the CRF
Fixed a bug which caused early leaver penalties to carry over into Custom Games
Fixed a bug which permitted Custom Games party members to interact with the party widget
Fixed a bug which allowed party invitees to interact with the party widget
Fixed a bug which prevented players from using the scroll wheel in Custom Games chat unless they were hovering over the scrollbar
Fixed a bug in the Pit which caused players to spawn in and around the same area as everyone else
Fixed an audio bug which caused the wheels engine sound to continue playing when a player loaded back to the mothership
Custom Games sliders and checkboxes are now greyed out for players joining a custom game
Fixed a bug which prevented the pending clan invite "!" from disappearing if an invite has been accepted/rejected
KNOWN ISSUES:
Excessive use of flags on a Megabot will result in severe game lag for the player using the Megabot
Setting the Weapon Energy Multiplier in Custom Games to 10% may cause some weapons to not fire. This is caused by a player having less weapon energy available than what is required for a weapon to fire
*With Megabots in Custom Games we wanted to give you the freedom to have maximum Megabot craziness without restrictions. However, depending on your PC's power/spec, pushing things to the max such as a 5v5 10k Megabot Battle Arena fight may result in some lag.