Current progress:
I have made some custom textures and have temporary took some CS Condition Zero textures.
I have edited a sky texture from FPSbanana
I'm working on a new map. Screens:
Plans:
I'm planning to tweak the other maps.
I'm planning to think of a bonus level.
I'm planning to make this: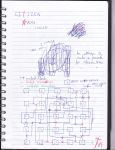 If you are interested in helping me with the mod, please make sure you are NOT a noob in developing. I'll welcome any type of a HL developer, except for a mapper (I'm a mapper my self). Mostly I need a modeler, a texture artist and a coder.