Hello and welcome to our first great No man´s land news. Today´s news will contain many interesting things, for some of them you have asked.
First, we want to thank mods, which stuff we used or we will use. They are:
BF1918/2, mod for BF2, which contains many interesting things, airplanes, tanks, buildings, weapons, etc. in very good quality. (more info here: Inside1918.net)
Big Kid Creations group, which made Sureal mod and Dawn patrol, as mainly Dogfighting mods. From these mods we have airplanes. (Bigkidcreations.com)
Allied Intent Xtended, another dogfighting mod, has in Easter Egg WWI airplanes in good quality too.
(Moddb.com)
So many thanks to all, which work we used or we will use.
First request of our readers was to bring Structure of our team as Teamlist, so here is it:
Graf Radetzky Leader, Researcher, News
Kev4000 Coder (external)
Meadow Researcher, Codder, Mapper
Desertfox Mapper
Masaca Coder
Flyboy fx Skinner, mapper
Oddball Researcher
Aggroman Modeler
Josh Skinner, Artwork
Cheeseontoast Coder
[MTP] Paasky Export
Kiwikiwi Skinner
60Maj Niklas Tester, Mapper
Mike Beehan Tester
:Hi Tester
The Warrior Lead Researcher, Artwork, News-Writer and Dreamcrusher
And we are planning more, because we will work together with F|H and Inside 1918.
And as second request from our readers: Our basic plans for first release
- 3-4 maps, from it one airmap
- 3 teams: German Empire, Britain, USA
- new weapons and vehicles,
- totally new kits
Today´s thema is: German A7V tank in real life and in NML.
The A7V was introduced in 1918. One hundred vehicles were ordered during the spring of 1918, but only 21 were delivered. It was nicknamed "The Moving Fortress" by the British because of the shape of the hull. By the Germans it is nicknamed "Monster". They saw action from March to October of that year, and were the only tanks produced by Germany in World War I to see operational use.
The A7V was 7.34 metres (24.1 ft) long, 3 metres (9.8 ft) wide, and the maximum height was 3.3 metres (11 ft). The tank had 20 mm of steel plate at the sides and 30 mm at the front; however the steel was not hardened armour plate, which reduced its effectiveness. It was thick enough to stop machine gun and rifle fire, but not larger calibres. This offered protection comparable to the thinner armour of other tanks of the period, which used hardened steel.
The crew normally consisted of up to sixteen soldiers and two officers: commander, driver, mechanic, mechanic/signaller, twelve infantrymen (six machine gunners, six loaders), and two artillerymen (main gunner and loader).
The A7V was armed with six 7.9 mm MG08/15 machine guns and a 5.7 cm Cockerill-Nordenfelt fortification gun mounted at the front. Between forty and sixty cartridge-belts, each of 250 rounds, were carried as well as 180 shells for the main gun, split 90:54:36 between cannister, antitank, and explosive. These were the official figures, up to 300 rounds for the main gun were actually stowed.
The "female" variant had two more machine guns in place of the main gun. It is not entirely clear how many started this way or were converted. Some sources say only chassis number 501 saw combat as a female.
Power came from two centrally mounted Daimler 4-cylinder engines delivering 100 horsepower (75 kW) each; the A7V carried 500 litres (110 imp gal). The top speed was about 15 kilometres per hour (9.3 mph) on roads and 5 kilometres per hour (3.1 mph) across country.
Compared to other World War I tanks the road-speed was comparatively fast, but the tank had very poor off-road capability and was prone to getting stuck. The large overhang at the front and low ground clearance meant trenches or very muddy areas were impassable. This was worsened by the fact that the driver could not see the terrain directly in front of the tank, due to a blind spot of about 10 metres. However, on open terrain it could be used to some success and offered more firepower than the armoured cars that were available. Power to weight ratio was 6.8 hp/ton (5.1 kW/ton), trench crossing: 7 feet (2.1 m), ground clearance: 7.5 to 15.75 inches (190 to 400 mm).
Thirty chassis were assigned for completion as Überlandwagen supply carriers, but not all were completed before the end of the war.
The design of the A7V featured on the Tank Badge of 1921, awarded to commemorate service in the German Panzer forces of 1918.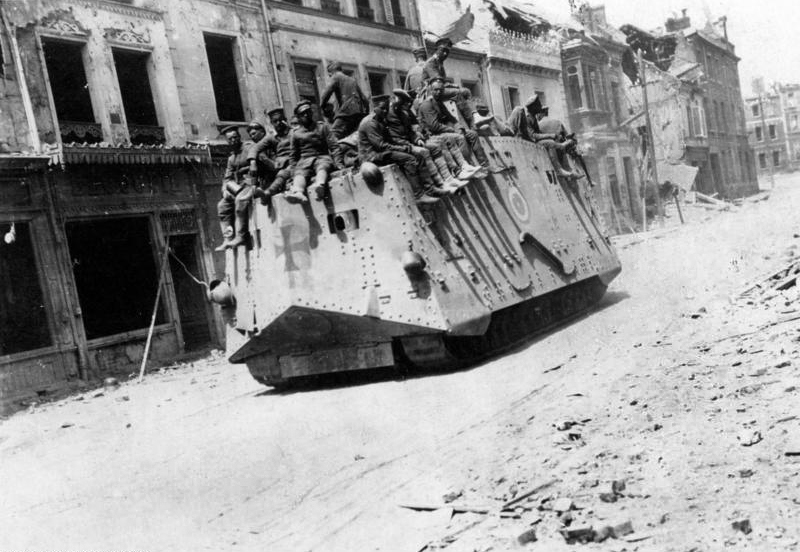 (Wikipedia)
In No man´s land we want to use it as opposite of Allied tanks, mainly vs Mark tanks. With its six MGs and one Cannon it will be well usable against infantry, MG nests and comparable to allied tanks. We will use BF1918/2 files now, which contains Wotan and Mephisto, but in future are possible more version. A7V is modeled by Streetveiter and textured by Blackjack.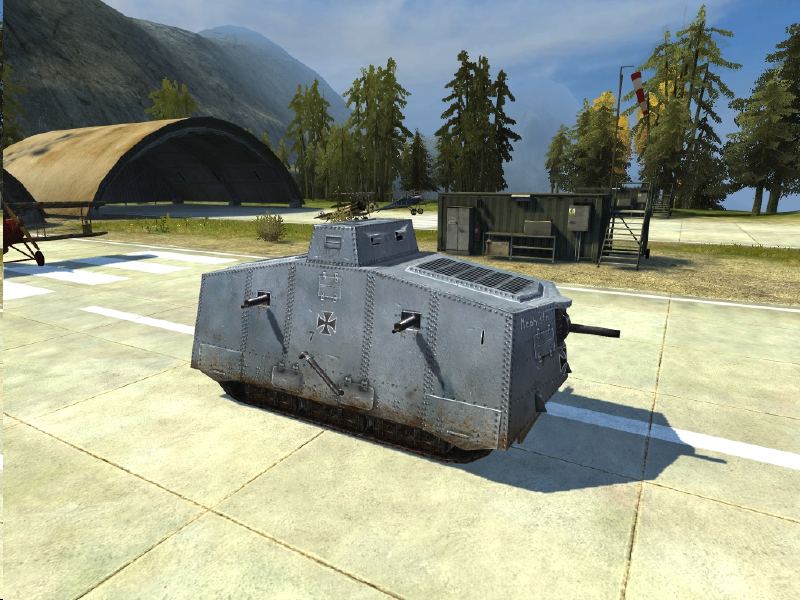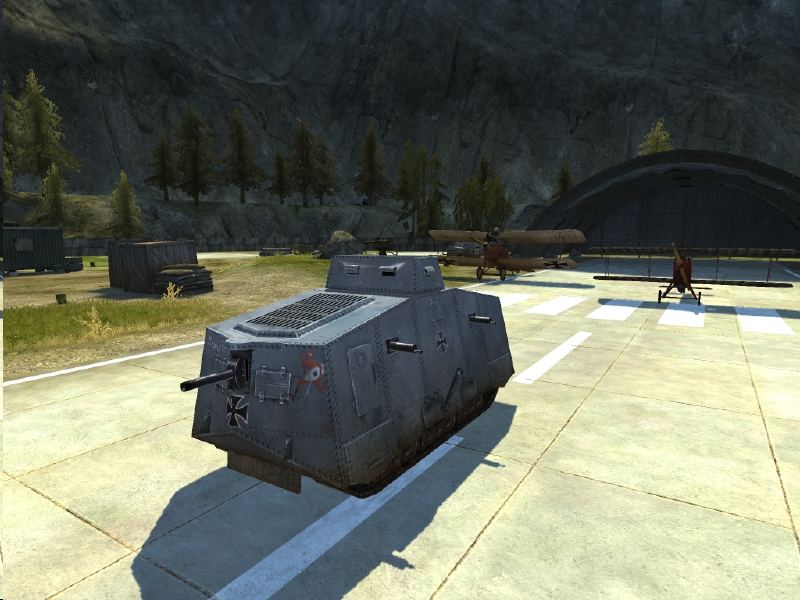 That's all for this week, but be sure to come back next time for another update. Until then, feel free to discuss this update.