Mugalo, space horses. I don't want to prance around the manor too much: the most interesting thing in this post is this video. Please enjoy this Moop Light Cruise. Pete put this song together, and I loaded it into the game with some other stuff, and if only for a small amount of time, I saw everything come together. It was beautiful. There is a mountain of hay (work) sitting in the meadow, but this video is a warp hole — swirling through the hay — glinting a tiny spec of the light — indicating that MAYBE — there is light at the end of this cosmic horse tunnel. There's more to read below, but if you do nothing else, watch this thing:

Moop Light Cruise – Indie DB
Ok, you're still here. Oh. Ha. No I mean, yeah. I'm totally on AIM. Definitely. HorseBrotherNo9. I do like that name. Wait. Don't leave me like this. Not again. Well, here is the test-ship burning at full speed through the gray void of debug mode. I built this simple test ship, because we needed something to make some progress, but I really want to save ship-design for a later time. So here it is — test-ship one — the silver mustang. You can see how the sails streak back when you go fast.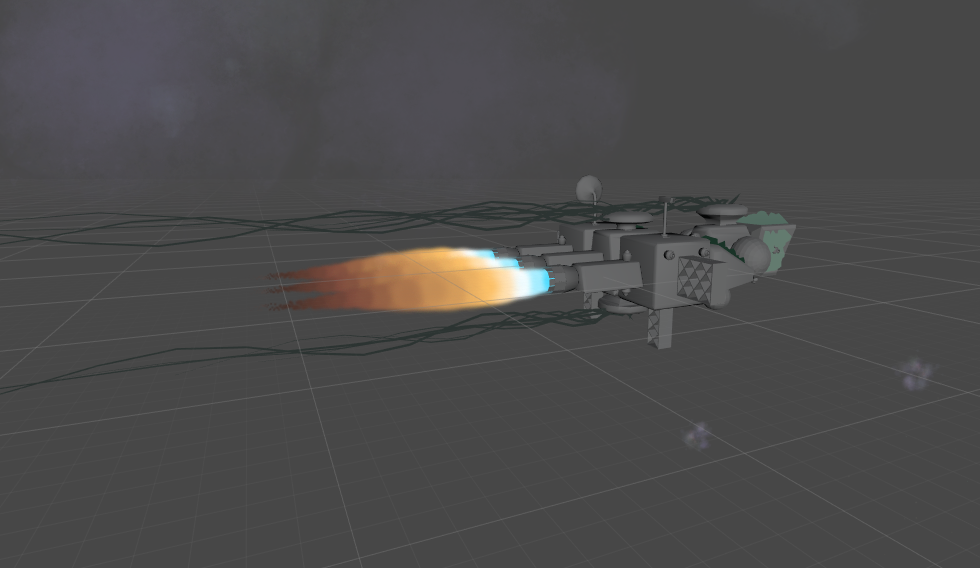 This is edit mode. When you go into edit mode, you can actually customize the UI (Jundows) to your liking. Like… these are the jundows. They're purple.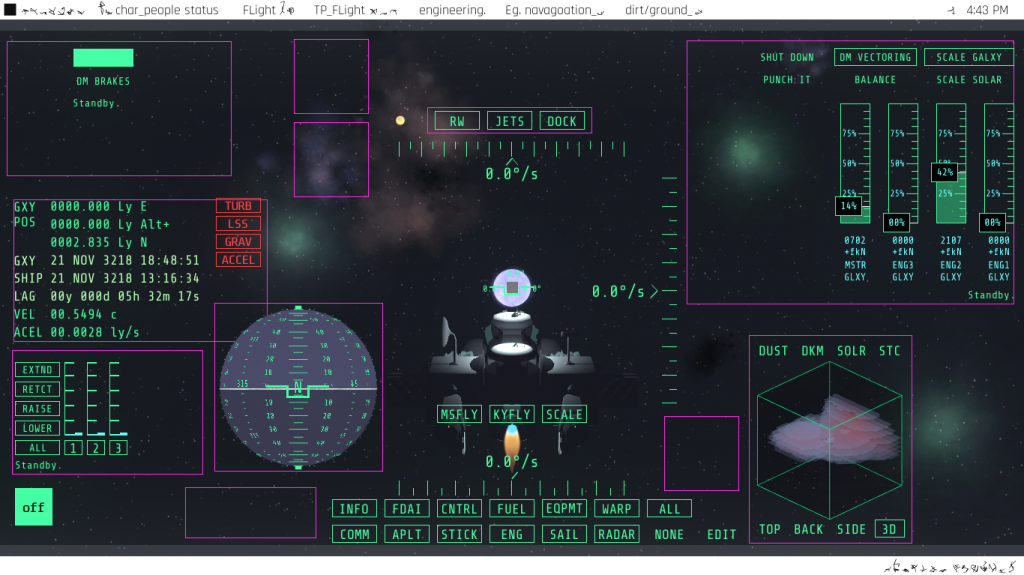 Close up on the engine UI. There's alot going on here, but basically you have different speed scales for the engine, a couple of throttles, a master throttle, and most interestingly — the DM Vectoring button. This button enables a near-magical system that can keep this ship flying even-keel when various engines fail or other sad scenarios are at play. But if the DM Vectoring system breaks, you might need to fly with a limp for a while.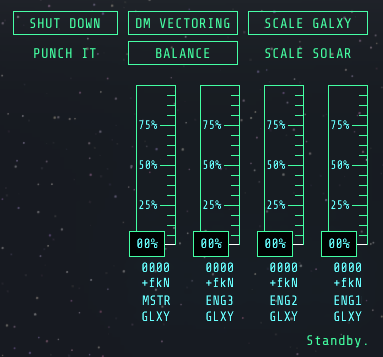 These are just some shots of space. If you hold right-click, you can kind of stare around and get this panoramic view of space. I'm trying to make space very pretty, so I thought it would be nice if people could hide all the clutter and enjoy this galactic kodakery. You could print these out, laminate them, get them signed by Shaq / Bruce Springsteen, and then hang them on your fridge. That could be fun, idk. Its always fun to try something new like that.