This is a post duplicated from the Digitanks website.
I'm proud to announce that there is now a small demo of Digitanks available for download. If you download it you can make many Digitanks very happy.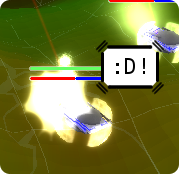 This demo is really just a prototype. I plan to expand it in the future with more tanks, more weapons, and a base-building aspect, where you can build a digital base and conquer your enemy's bases. I'm designing the battle system so that it's very tactical (you can see some of that in this demo) but there will also be a good strategy element to the game. I've set a deadline for myself of mid-September to complete the entire game.
If you enjoy the demo and want to see it made into a full game, there are many ways you can help us out. I should now be able to resume my regular update schedule of 2-3 times a week.