Hello children, it's me again. First, off let's drop this week's podcast - it's a corker...
As I mentioned last time, we were working on a set of five short missions for the beta part of the single player. Thanks to Bin's supreme efforts, we have ended up with six. The first two are incredibly basic, the next two are reasonably normal in difficulty, number 5 is hard and number 6 is a kind of demonstration mission featuring all the units in a giant gang-bang. We think this should give us, and our select group of testers a good overview of what the SP experience is like.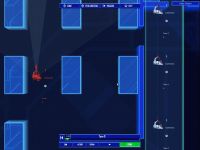 I had hoped that we'd have new graphics in by now, but some CVS problems meant that we didn't have the correct version to hand at time of going to print. Next week, during mini-crunch, I'm hoping to get some video of the current state of play so you guys can take a look.
By the way, someone has been slagging you off. I don't mean to be rude, but I mentioned to another indie developer that each update on here was getting me about 5 - 10 new "watchers" and he essentially said, "WELL, TO MAKE MONEY OUT OF THAT YOU'D NEED TO DO FIVE UPDATES EVERY DAY!"
I mumbled and looked at my shoes. Well, I want you to prove him wrong! Go and tell all of your friends about how incredibly exciting these updates are and we'll create an enormous tide of Watchers, go round his house and mock him endlessly. I did point out to him that, as long as people are listening to us and supporting the game, and that the number of people who are doing so is growing, I will continue to post on here.
Thanks for the support so far - it does mean a huge amount to us - we are simply trying to let you in on our development in order to build up some excitement for the game, but we're not doing it with pre-rendered bollocks or huge wanky press conferences. I don't want indies to be discouraged from opening up their development and talking about it simply because they're not yet able to command huge traffic numbers.
And now, as requested, further updates on Life...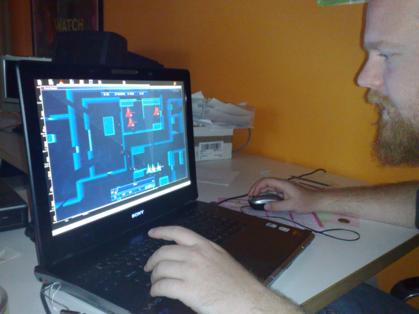 I feel it's appropriate that we start with this picture of Bin. Bin has been working on crafting our levels - he is the man behind the cool architecture you are witnessing in the screenshots. He is big and has a beard. He also owns The Proton...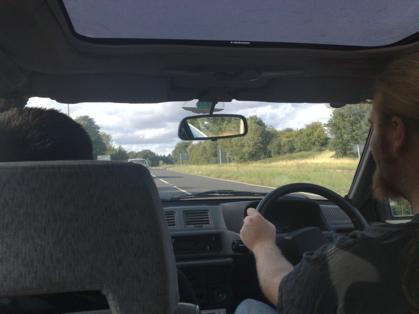 Here we are driving along in The Proton. The Proton is a phenomenal vehicle which has something new wrong with it every single time you encounter it. When I was taking this photo, Bin pointed out that you won't get the full The Proton experience without the rattling and clunking sounds it emits. We love The Proton. Bin very kindly uses it to pick me up from the train station sometimes.
Right, we need to rewind a bit now and get to the important stuff...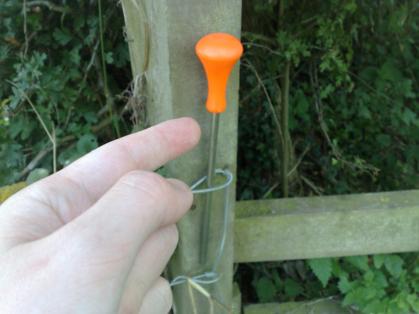 I know many of you have been wondering about this, which we have christened The Baster. The Baster was present when this photo was taken (Thursday 20th August) but on my way home on Friday evening...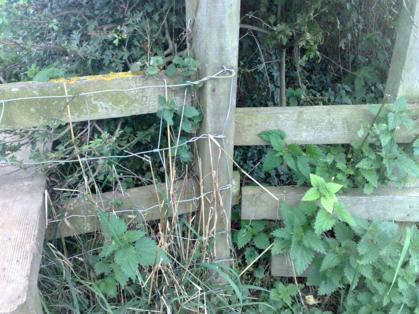 OH MY GOD! WHERE IS THE BASTER! WHAT KIND OF OMEN IS THIS! I promise this was not staged in any way: The Baster is gone. No more. I looked around the field for it to see if it had merely been dislodged, but no Baster. People, we must mourn its loss. We now need a new mascot for these updates. I'll get working on it.
I thought I'd do you a little tour of the office, but it was in a shocking state when I arrived and we don't want to appear shoddy. So here are some edited highlights...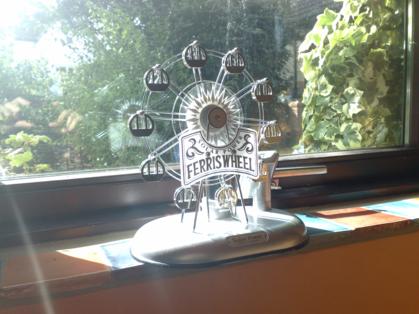 This is Ian's solar-powered ferris wheel. It...is...powered by the sun. It makes a godawful noise. I'm both intrigued and horrified by it, as you might be by an unusual poo.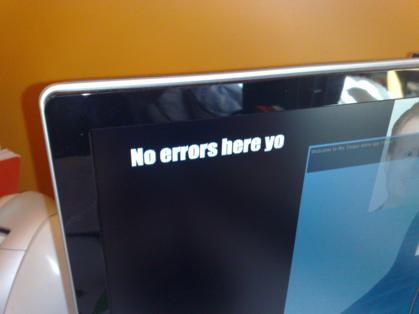 This is some, um, debug information from a Super Sekrit Projekt that our uber-freelancer Thom is working on. It's not a game, and I'm not going to tell you anything about it. Thom is about 250% cooler than the rest of us - he can beat us all at tennis and is going on some kind of epic alchohol-fuelled world tour after he has finished his stint with is. I have not shown his picture here because he will get a massive ego, and I forgot to take one.
This is a really completely pointless photo of a spider that was in the bathroom...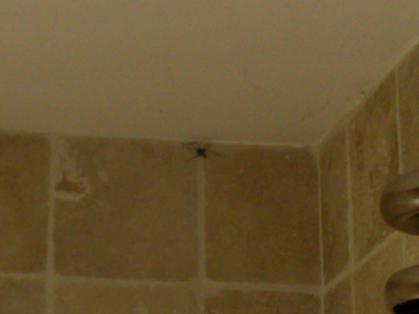 ...this image alone cannot convey its size. I don't know why I took this, I don't know why I'm sharing it with you. So, after my time at the office I went back to Leamington through Oxford town centre. I saw this...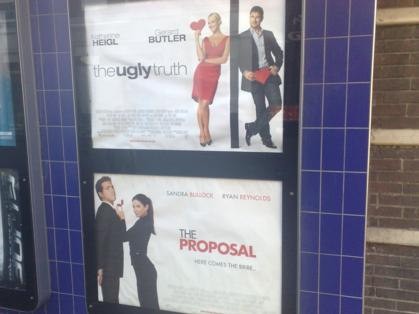 Seriously wtf is up with the colour-schemes here? Red and black is not something I would have imagined fired every woman's romcom synapses but clearly there is some demographic INFORMATION to be gleaned here. I told my girlfriend that I was NEVER watching The Proposal, but that I would watch The Ugly Truth with her if I was allowed to be drunk for the entire movie. She accepted this proposition - she is wise.
So, after musing on that I had to stand around Oxford train station for fucking ages. I bought a Mars Milk - WHY??? I put it in this bin...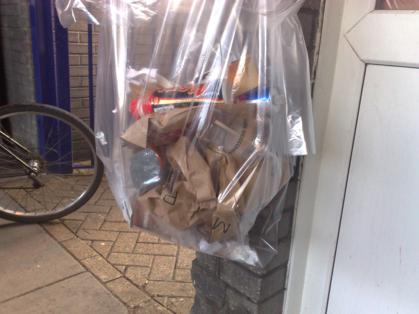 You can see it at the top there. Thank god they have bins on train stations now - they realised that the IRA aren't going to leave bombs in them and run away. All we have to worry about now are people blowing stuff up in ways which can't be predicted or prevented. Political.
Anyway, take that Mars Corporation.
Next to the bin, I saw this: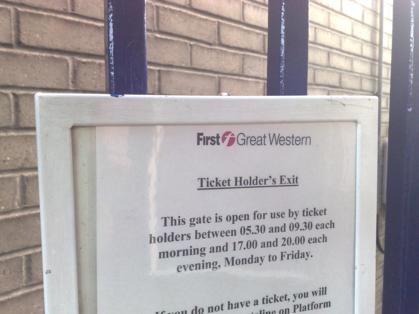 Who is the mysterious Ticket Holder? Does he hold The Ticket for all of us? Is he democratically elected? He has his own exit. I imagine him to be a bit like Black Rod. When I arrived in Leamington, I walked through quite a Nice Area but witnessed this:
Whoa. Ghetto. Who trashes a car that...conventional? It's so prosaic. Then I went home and ate this: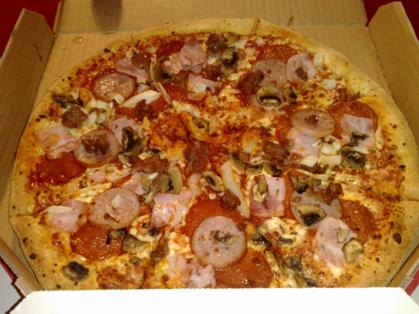 YEAH! Domino's (usually disgusting, only ordered in an emergency) have clearly worked out that people only order meat pizzas. They have flooded their menu with meat to the extent that they have resorted to meat-oriented puns. They have a pizza called the Meatzza. With three z'ds. All of their pizzas are meat. I'm surprised they haven't got one with a meat base and bread on top called the Azzip.
Now, this isn't America, we're not as used to pun product names as you guys. Although where I used to live, there was a grocery shop called Melon Cauli.
THAT CONCLUDES THIS UPDATE. Hopefully we'll have those new graphics for you soon. Remember to prove the ModdB naysayers wrong!