Die Maquis Allianz - The Maquis Alliance
Zur bald kommenden Alpha 0.4 haben wir uns gedacht, dass wir mal ein paar Render Bilder hier herein stellen und euch mal einen kleinen Vorgeschmack geben, auf dass, was euch so in der Alpha 0.4 erwarten wird.
--------------------------------------------------------
For the soon coming Alpha 0.4 we have thought to release here some render pictures. So you will get an little foretaste what awaits you.
Forschungsschiff der Marauder Klasse
Eine komplett überarbeitete Version der alten Marauder Klasse. Es wurde für den Kampf und den Handel gleichermaßen entwickelt, weswegen es auch über gute Schilde und Waffen verfügt. Die großen Frachträume können mit zusätzlichen Waffen bestückt werden, wodurch die Effektivität dieses Schiffes nochmals gesteigert werden kann.
Modell von Frankie.thb
--------------------------------------------------------
Research Ship of the Marauder class
A complete rework of the old Marauder Class. It was likewise developed for battle and trade,
therefore it has good shields and wepaons. The big cargo bays can be armed with additional weapons, so the effectiveness of the ship will be again increased.
Model by Frankie.thb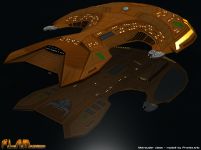 Schwerer Kreuzer der Raider Klasse
Die Raider Klasse diente den Maquis schon vor dem Dominion Krieg als der Maquis fast komplett vernichtet wurde. Nun wo der Maquis wieder aufersteht sah man sich dazu gezwungen dieses Markenzeichen des Maquis wieder auferstehen zu lassen. Die neue Version ist komplett neu entwickelt aber das Design entspricht noch den original Raider. Nur die Technik ist komplett neu um mit den neuen Schiffen mithalten zu können.
Modell von Frankie.thb
--------------------------------------------------------
Heavy Cruiser of the Raider class
The Raider Class was still used before the Dominion War and as the Maquis was almost completely destroyed. Now the Maquis was risen the time was also coming to repesent the Maquis again. The new version is completely new developed, but the design is of the original Raider. Only the technology is completely new to stand also against the newest ships.
Model by Frankie.thb
Prototyp der Pha`Geist Klasse
Nachdem die Bajoraner lange Zeit keine Mittel hatten um große Schiffe entwickeln zu können, ist dies nun durch die Allianz mit den Ferengi möglich. Das Ergebnis ist ein doch sehr kampfstarkes Schiff was man in die Kategorie Raubvogel einordnen kann.
Modell von Frankie.thb und APCM MKII
--------------------------------------------------------
Prototyp of the Pha`Geist class
The Bajorans had no resources for a long time so they were not able to develop big ships, but due the Alliance with the Ferengi it's now possible. The result is an very powerful ship which can be classified in the bird of prey categorie.
Model by Frankie.thb and APCM MKII