Greetings Troopers!
Well we have really been working our collective butts off on the next release of First Strike. We seem to have developed a reputation for the Trademark it will be out "SOON" TM remark, but at long last the wait might soon be over. It has been over a year since our last considerable new content release, and as a result the player base of our mod has failed a little, we still have a hardcore fan base, but the numbers are dwindling as no new content has been available in so long.
Well that will soon be changing. Bolstered by the return of several key members of the Development Team over the Summer, and a fierce desire to get all the hard work that has been put into the production of First Strike 1.5 to the public, there has been a flurry of activity these last few months that has culminated in this last week where an unprecedented volume of work has been put into the mod with constant test builds being updated, tester feedback considered, and new builds produced so rapidly that the mod has improved immeasurably in mere hours. Critical problems that have been hampering the mod have been tackled head on and bludgeoned into submission. Chief amongst these has been a critical class 'A' bug that was causing us some serious issues with one of the key assets of the next release, the much anticipated Sentinel lander. The problems were becoming so serious, and the delays caused by this were such that we had to start considering pulling the ship from the release and just pressing forward without it until the bug could be found and dealt with, but as luck would have it FSDev Krenyo managed to pull our fat out of the fire today and finally sorted out that pesky bug, and now the last hurdle keeping us from release has fallen away.
Another hero of this last big push towards release is FSDev Twigs who has really gone from strength to strength on this mod, starting off leading the Testing Team his desire to see First Strike's space maps rival the thrill of the classic X-Wing vs TIE Fighter games has seen him push himself to excel at mapping and coding, and the effort he has put into getting content into the mod these last few weeks has been nothing short of Herculean.
Together with this surge of development activity the testing team for our mod have really come through for us going above and beyond the call of duty to test all hours that they are available, not just the designated testing times. I guess with so much new content to see and get to grips with they have plenty to keep them busy, and the fact they stay on after testing is over to carry on playing the test builds of the mod even though they've already been at it for hours can only be a good sign.
There is so much to keep track of it is easy to get lost in it all. Safe to say that you have not been waiting over a year for just two new maps (wonderful as they are), there are also fundamental changes to a lot of existing assets, gameplay tweaks, aesthetic modifications, and still a fair few surprises that we have in store for you that we haven't let slip yet. So yes I know I've said it before, but I do believe you'll find it well worth the wait, and that wait is almost over. Look out for an announcement on an actual release date. Not long to go now.
It makes me very proud to see the team as a whole come together so strongly with such a clear vision and goal that unites us. To deliver to the public the best Star Wars game we possibly can, by the fans, for the fans.
Lastly to whet your appetite still further why not feast your eyes on the freshly textured Virella Systems Cargo Tanker, that's right, she's in game already!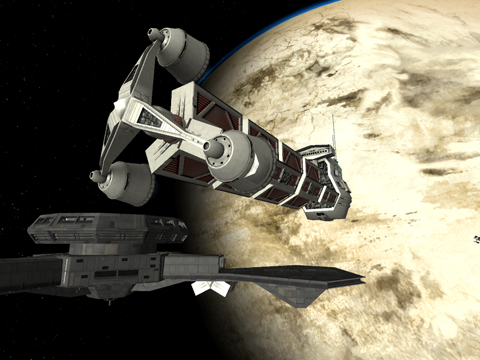 See you out there.